Harriet Tubman to Be Featured on $20 Bill
Hamilton will remain on the $10 bill thanks to the musical based on his life.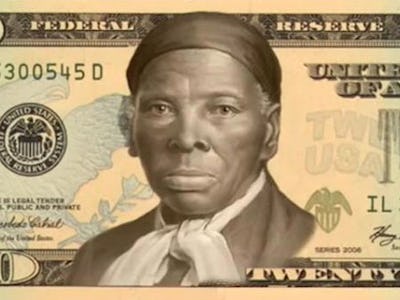 Politico 
The search for a woman to replace Andrew Jackson on the $20 bill is over. Treasury Secretary Jack Lew announced today that Harriet Tubman will grace future bills along with 10 other women, who will be announced as the process continues.
The change follows last year's announcement that Lew might replace Alexander Hamilton on the $10 bill — and swap him with a historical American woman. Thanks to the success of a certain musical, Hamilton has become a popular figure, and many of his fans called on the treasury secretary to replace Jackson on the $20 bill instead.
Whereas Hamilton is now quite beloved for his theatrical rap on Broadway, Jackson is generally known "Trail of Tears," in which his Indian Removal policy forced thousands of Cherokee Indians to vacate lands east of the Mississippi River, killing through disease, exhaustion and hunger 4,000 of the 15,000 native Americans settled in those lands.
Think about that each time you withdraw a $20 bill from the ATM. According to the Department of the Treasury, Jackson won't be completely removed from the bill and will remain on its reverse side along with an image of the White House.
Tubman, on the other hand, made thirteen trips back and forth across the Union border during the Civil War rescuing slaves and their families to freedom in the North. In the post-war era she served as a voice for women's suffrage and is truly a far superior role model than the slaveholding Jackson.
The $20 bill will also feature 10 other women, while Tubman taking the top spot.
The $10 bill is the next image to be outfitted with anti-counterfeiting measures. The reverse of that note will also honor the leaders of the suffrage movement — Lucretia Mott, Sojourner Truth, Susan B. Anthony, Elizabeth Cady Stanton, and Alice Paul — through an image of the historic march for suffrage that ended on the steps of the Treasury Department.
The reverse of the $5 bill is also set to commemorate various event throughout history that took place at the Lincoln Memorial by honoring Marian Anderson, Eleanor Roosevelt, and Martin Luther King Jr.
Don't expect changes to happen quickly, though. Redesigns from the Bureau of Engraving and Printing won't be released until 2020 and none of the newly announced bills will be in circulation at all in the next decade.
"Due to security needs, the redesigned $10 note is scheduled to go into circulation next," Lew explains in a public letter about the decision. "I have directed the Bureau of Engraving and Printing to work closely with the Federal Reserve to accelerate work on the new $20 and $5 notes. Our goal is to have all three new notes go into circulation as quickly as possible, while ensuring that we protect against counterfeiting through effective and sophisticated production."
Tubman famously has a link to a $20 bill, as described in an biography of her by Sarah Hopkins Bradford: