Watch Seth MacFarlane's Breakthrough Starshot Interstellar Spaceflight Hype Video
The creator of 'Family Guy' is actually really into science.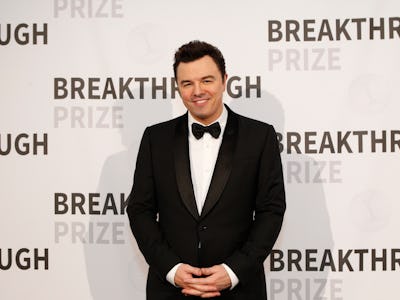 Getty Images/ Kimberly White
Turns out, the man behind the sometimes witty, often crude animated sitcoms Family Guy and American Dad also moonlights as the host of the annual Breakthrough awards, fondly known as the "Oscars of Science." Seth MacFarlane hosted the awards last November, when Hollywood stars palled around with Silicon Valley's biggest brains and deepest pockets.
MacFarlane also narrates, Cosmos-style (he produced the Neil deGrasse Tyson reboot), some of the videos introducing Breakthrough winners and some of the latest initiatives, which include Breakthrough Starshot, Russian billionaire (and Breakthrough Prize founder) Yuri Milner and Stephen Hawking's ambitious plan to search for alien life on faraway stars with tiny nano-starships that may be the future of interstellar travel.
The Breakthrough competition has only been around for about three years — Milner, Google co-founder Sergey Brin, Alibaba founder Jack Ma, genetic-testing outfit 23andMe founder Anne Wojcicki, and Facebook's Mark Zuckerberg put it together in 2012 to give scientific achievement more publicity and "promote future progress," and the first prizes were in 2013. And they're lucrative as hell — winning laureates get $3 million in prize money, which is more than triple the paltry Nobel stipend of around $940,000 (maybe paltry isn't the right word).
Basically, they put geniuses in suits and try to make science a little more sexy, while pushing the boundaries of what the best minds in the world can achieve. Past winners include MIT's Edward Boyden for his work in optogenetics, a process that uses light to activate neurons and the brain pathways associated with them — the Breakthroughs trend toward interesting, offbeat, ambitious projects (like getting off the Earth before it's too late).
Here's MacFarlane announcing all of the 2016 Breakthrough Initiatives, including Starshot.
He's not the most likely hype-man for cutting edge scientific research, but if Hollywood wants to put their fame and fortune behind the advancement of humanity, we're all for it. You can watch the full video for Breakthrough Starshot below.