Emily Blunt Goes Off the Rails in the First 'The Girl on the Train' Trailer
Featuring a menacing Luke Evans and a concerned-looking Justin Theroux.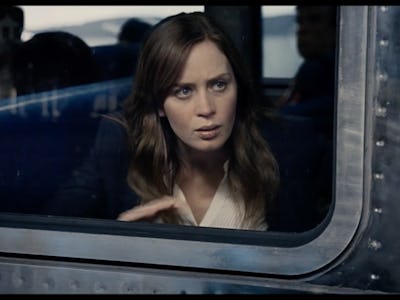 Universal Pictures
Muted color palettes? Justin Theroux looking concerned? Kanye West's "Heartless" playing, forebodingly, in the background? Sex, violence, and the possibility of an unreliable narrator? Aw yeah, it's a 21st century screen adaptation of a bestselling thriller novel, all right. Paula Hawkin's tautly paced novel The Girl on the Train was a massive bestseller back in early 2015, and it didn't take long before it got Gone Girl'd into a sexy, dark film starring Emily Blunt and directed by Tate Taylor.
Blunt plays Rachel Watson, a recently divorced woman whose daily train commute takes her directly past her old house in London. You'd think she would have like, changed neighborhoods or at least train lines or something, but apparently Watson is the kinda girl who wouldn't even bother to hide her ex on Facebook, because she spends most of her time gazing out the window and probably thinking about her old life with her husband Tom (played by Justin Theroux; so yeah, we'd think about it too). While on the train, Watson sees a woman in her neighborhood get murdered. Or does she? Again, this is a dark thriller with an unreliable narrator, so we're off on a roller coaster ride of emotional drama and gritty violence with plenty of whodunit action to keep audiences guessing (unless, of course, they've read the book).
The film stars Haley Bennet as the possibly murdered Megan Hipwell; Luke Evans, Rebecca Ferguson, Allison Janney and Edgar Ramirez also join Blunt and Theroux.
The Emily Blunt bandwagon has been rolling along at full speed for a while now, and it's very possible that The Girl on the Train could be better than the mediocre source material.