Is "Difficult" Elon Musk the Reason Tesla Is Losing Engineers to Apple?
No matter how much hype Tesla gets, the top brass hasn't stopped leaving.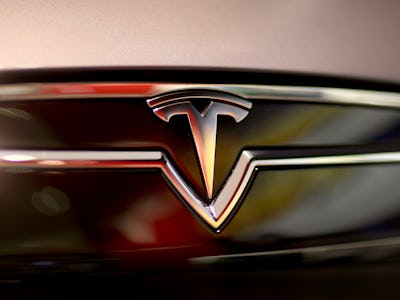 Getty
More key engineers from Tesla are defecting to offbeat autonomous car companies just as Tesla's production is starting to ramp up.
In the news today, thanks to a report by Electrek, is the revelation that Former Tesla vice president of vehicle engineering Chris Porritt moved to Apple to work on "special projects" (read: Apple's Project Titan car initiative) close to a year ago. Just last week, news broke that senior Tesla engineer Riccardo Biasini will move to Comma.ai — George Hotz's disruptive company that wants to retrofit your car into autonomy for under $1,000.
Of course, this isn't the first time that Tesla employees have jumped ship. Back in October, Elon Musk addressed Apple's Tesla pick-ups in an interview with the German newspaper Handelsblatt.
"They have hired people we've fired," Musk said. "We always jokingly call Apple the 'Tesla Graveyard' … If you don't make it at Tesla, you go work at Apple." He also added: "I'm not kidding," just in case anyone had any doubts that Tesla Graveyard was a part of Musk's regular vernacular.
Porritt's position isn't completely clear, but more than likely he's helping out with Apple's vehicle development. It's development that, according to the German media organization Frankfurter Allgemeine Zeitung, stretches further than Cupertino. Some 15 to 20 German auto employees work as idea men at a secretive Apple lab in Berlin. Details on the employees are as elusive as details on the lab, but it appears that Apple is a fan of German engineering.
Apple's first addition to the car market via Project Titan most likely won't be autonomous. The cars will probably be electric, however. Porritt's resume includes stints at Aston Martin, as well as work on the Tesla Model S, 3, and X.
Biasini's move to Comma.ai is just as surprising as Apple's hires and secret factories. Hotz has a history of trolling Musk and co., and Musk has called Hotz's goals unrealistic.
But Comma.ai is becoming a bigger player in the autonomous car scene. It raised $3.1 million in April, and Hotz has proven his technology works. It's not a huge amount of money, but it's obviously enough for Hotz to get some serious interest.
Biasini will focus on combining Comma.ai's autonomous software with the physical vehicle. His hire adds some legitimacy to a company that people don't consider a serious threat.
It's not clear why some of Tesla's top engineers are running to the competition. Tesla's Autopilot is one of the most promising autonomous systems already on the market, and the company's upward trajectory doesn't look like it will be falling any time soon.
Maybe the engineers want to be a part of an even newer group of vehicle innovators, or maybe it has something to do with Musk's ruthless expectations.
For a book titled Elon Musk: Tesla, SpaceX, and the Quest for a Fantastic Future, author Ashlee Vance interviewed several people who have worked for Musk, finding that the multifaceted futurist is not an easy boss to report to. "It seems like people can get afraid of him and paralyzed in a weird way," Tesla's chief technology officer J.B. Straubel was quoted as saying. Another source of Vance's said Musk had "tossed to the curb" some who had "worked tirelessly for him for years."
"If you're joining Tesla, you're joining a company to work hard," Musk told Autoblog in 2012. "We're not trying to sell you a bill of goods. If you can go work for another company and then maybe you can work a 40-hour work week. But if you work for Tesla, the minimum is really a 50-hour week and there are times when it'll be 60- to 80-hour weeks."
Tesla is going to need to retain all the top engineers it can if it wants to fulfill expectations. Whatever it is, we all know Tesla isn't losing engineers because of a lack of money.