'Arrow' Season 5 to Explore Oliver's Russian Mob Ties, Keep Annoying Flashbacks
Expect, like, a dozen episodes of Oliver learning to speak Russian.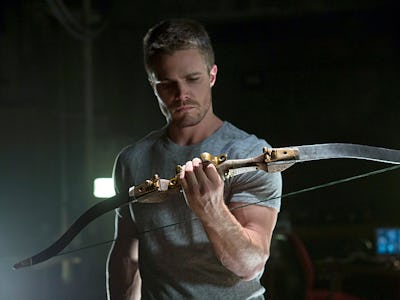 The CW
To paraphrase the emerald archer himself: After five years on a hellish island, Arrow had only one goal, get rid of the annoying flashbacks. But unfortunately, it has failed.
In the upcoming fifth season of the CW's Arrow, the show based on the DC Comics superhero Green Arrow, executive producer Wendy Mericle told TVLine the show will stick to its "flashback" format even though Season 5 will narratively catch up with Oliver Queen's disappearance on the island of Lian Yu (not to mention that meandering year spent in Hong Kong for Season 3). "The way we write the story is still very much married to that backstory," she said. "Trying to change it up at this point would feel weird."
But would it, really? The flashbacks in the show's current season (along with everything else in Season 4) have not been well-received by fans, who largely think they're boring and pointless. Surprisingly, the producers know why. "The problem is that we are telling a five-year story in the flashbacks of Oliver becoming the guy you met in the pilot. So the deeper you get into the flashbacks, the closer he becomes to being that guy, and, thus, you lose that element of the flashbacks that was so interesting, which is how different he was…. That's something we have struggled with this year."
It's refreshing to see producers admit their faults without dropping so many distracting buzz words. But Arrow sticking to the tiresome flashbacks isn't inspiring much confidence. For what it's worth, the show will use these flashbacks to explore a detail about Oliver that's been all but forgotten: How the hero got tight with the Russian mob. That hasn't been explored since, like, Season 1.
"I don't want to tip too much," Mericle told TVLine, "but it's a very good possibility that we'll finally find out how Oliver got that Bratva tattoo and how he learned to speak Russian." Velikiy.