Merchandising 'The Mermaid' and 'Monster Hunt' Is the Chinese Film Industry's Next Step
The first annual Chinese Film Merchandising Summit at the Beijing International Film Festival was a window into the surging industry's lucrative future.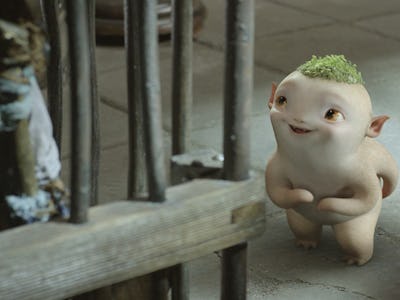 YouTube / Kino International
Despite its rapid expansion, the Chinese film industry isn't feeling any growing pains. With a record $6.78 billion box office tally for 2015, sparked by homegrown blockbusters like Monster Hunter and The Mermaid, China now sports the world's second largest moviegoing market, just behind Hollywood. It will look to overtake tinseltown in the next few years. And now, China is expected to make even more gains in the global marketplace with something pioneered by Hollywood visionaries nearly 40 years ago: movie merchandising.
The Hollywood Reporter revealed that the Beijing International Film Festival organized its first annual Chinese Film Merchandising Summit on Monday, which featured top-level Hollywood and Chinese film executives who all spoke about new areas of exploration for the surging industry. Top among them was the need for a merchandising plan for Chinese film studios who want to make even more money — by hocking toys, dolls, and other products that relate to some of their biggest film titles.
According to THR, 80 percent of China's film-related revenue comes from box office sales alone. Compare that to the 30 percent revenue that comes from North American ticket sales and the lack of alternative revenue and the opportunity to create it in China becomes even more apparent.
The summit was meant to establish a precedent for developing key industry practices like copyright laws, and even to establish adding a merchandising major to film studies programs at prominent Chinese universities.
"Every country's toys are manufactured in China, so why can't we produce toys for our own films?" Jerry Ye, CEO of Chinese studio Huayi Brothers Pictures, said during the conference. "The development of the IP industry must first have an environment of copyright protection to defend our IP from knock-offs," he continued. "Otherwise, these products will only be another form of promotion for the films, and not a very good form."
Considering Hollywood didn't realize they could wring even more dollars out of moviegoers until franchises like Star Wars popularized the idea of tie-in merchandise in the late 1970s, China's nascent movie market is a fascinating confluence of money making tactics. The whole summit is a fascinating look into sort of rich people realizing they could be super rich, and strategically positioning their chess pieces accordingly.
But it isnt all greedy studio executives preparing their coffers. Creatives had their say too. Hong Kong director Raman Hui, whose film Monster Hunt became the highest grossing Chinese movie ever before being knocked out of the top spot by director Stephen Chow's The Mermaid this year, submitted a video montage at the summit explaining his own film's missed opportunity.
The movie, about a magical monster king adopted by a bumbling peasant man, was full of marketing possibilities, but nothing came of it. Hui, himself a Hollywood animation vet who worked on movies like Shrek from Dreamworks before he made Monster Hunt, was well aware of what could be done. "A lot of people were making bad knock-offs and there was not much we could do, because we didn't make any merchandise for the first film," Hui said at the summit. "At that time, I said to my boss, 'we should have started this years ago'."
Now that they'll have a better grasp on marketing their movies, the Chinese film industry will continue to grow in leaps and bounds. Expect to see more movies and toys made in China very soon.