What's Up With Amazon Prime Video? Netflix and Hulu Have a New Rival
Streaming is the new cable.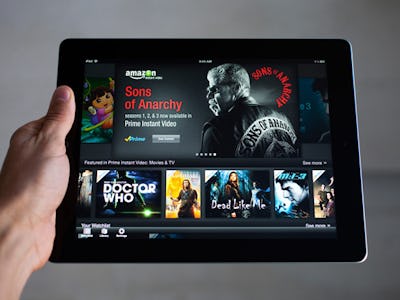 Amazon Prime
Amazon on Sunday night unveiled a new monthly subscription package for its Prime Video streaming service that sets it up as a direct competitor to Netflix and Hulu. Until now, Prime Video has only been available to users who pay the full $99 annual subscription to Amazon Prime. The new scheme offers $8.99 for monthly access to the site's video streaming services alone or $10.99 for a month of everything Amazon Prime has to offer, including free two-day shipping on any order.
The massive popularity of Amazon Prime, which boasts as many as 60 million paid subscribers, has allowed Prime Video to develop award-winning shows like Transparent and Mozart in the Jungle. But the bundling of Prime services like two-day shipping with the streaming service means many people stumble on the site's videos by accident, after purchasing Prime for its other conveniences.
The new monthly pricing plan for Prime Video would cost $8 more annually than a full subscription to Prime, but the option may allow potential customers to try the service for a few months before shelling out for the annual membership.
The move to a more streaming-focused pricing highlights the growing strength and accessibility of Prime Video. At $8.99, the Amazon service offers a reasonable comparison to Netflix's price tag that ranges from $7.99 to $11.99 depending on extras like additional screens for simultaneous viewing or HD quality. Prime Video has also expanded the range of devices that are compatible for streaming, including Google TV, Roku, and most Android and iOS devices. While Netflix alone is available through Apple TV, Amazon says Prime Video will be soon.
In addition to Prime Video's investments in original content, it has also tried to match Netflix for overall selection, purchasing popular shows like Downton Abbey and Mr. Robot. The balance of original and cable content appear to pit Netflix and Prime Video directly against one another, while HBO Go, which also recently unrolled a monthly subscription plan, remains in a different tier. At $14.99 per month, the service is clearly trying to leverage its huge library of original content for a distinctly higher fee.
With streaming services expected to gain a major boost if the Federal Communications Commission officially frees cable boxes from the grasp of cable box-set manufacturers, Amazon is now poised to compete with Netflix in the first big rush away from traditional cable subscriptions. A monthly plan is more familiar and affordable for many consumers. It could mean a lot of new business.