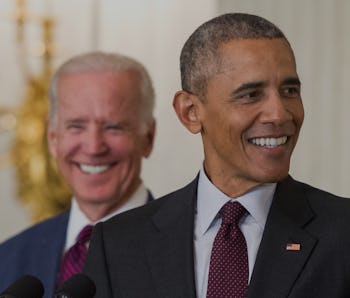 Culture
Obama Backs Plan to Stop Price-Gouging for Cable Boxes by Opening Up the Market
#unlockthebox gains a famous friend. 
Getty Images
President Barack Obama announced today he wants to open cable boxes to third-party manufacturers.
In an unusual public statement to an executive agency, the president is encouraging the Federal Communications Commission to proceed with its plan to free cable boxes from the grasp of cable companies that demand pricey annual leases for set-tops yet offer only rudimentary service.
The president does not typically weigh in during the public comment period on new regulations, but in this instance, as he did for the FCC rules safe-guarding net neutrality, Obama is hoping to force the issue.
If approved, the new regulations would require cable companies to provide third-party services with access to their content. So services like Roku or Apple TV that currently focus on online streaming may soon be able to deliver content currently only available through cable services like Time Warner.
The FCC has already approved regulations that would #unlockthebox, but with cable companies calling the move a giveaway to Silicon Valley, the issue has remained divisive. The president wants the effort to open cable set-top boxes to serve as a "mascot" for his work to expand competition across a series of moribund industries, according to a blog post from Jason Furman, chairman of the Council of Economic Advisers and Jeffrey D. Zients, director of the National Economic Council.
"Instead of spending nearly $1,000 over four years to lease a set of behind-the-times boxes, American families will have options to own a device for much less money that will integrate everything they want including their cable or satellite content, as well as online streaming apps in one, easier-to-use gadget," the post reads.
The president's advisors liken the current situation with cable box set-tops to the monopoly that the phone companies maintained: "not just on the wire to your house but, in many cases, on the phone you plugged into that wire."
But once the government took steps to expand competition, new phone models hit the market and prices dropped, saving customers money while expanding the quality of the service. They argue that the same benefits are long overdue in the cable industry.
"The average household pays $231 per year to rent these often clunky boxes. And, while the cost of making these boxes is going down, their price to consumers has been rising," the post continues.
The effort generated waves of enthusiasm before the FCC vote in February, and the 3-2 victory paved the way for the president's vow of support. With regulatory and executive support, it seems unlikely that anything could now derail the regulations entering into law. At this point, it would require legislative action to reverse course, but that would also entail pissing off a lot of people who oppose the cable monopoly. In other words, don't expect #relockthebox to catch on anytime soon.