VR Game 'Sens' is a Graphic Novel Come to Life
The French VR app is the most immersive point-and-click ever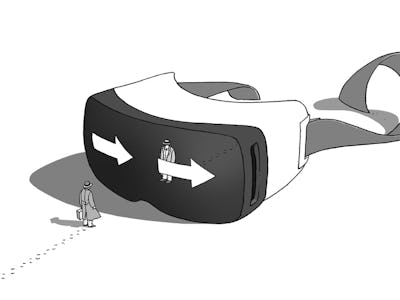 Billions of dollars are being invested in virtual reality, a medium that promises endless visual possibilities. Perhaps counterintuitively, then, it's a stripped-down, lo-fi VR program that is one of the most immersive experiences the technology has to offer.
Sens is a hybrid experience that combines elements of gameplay, graphic novels, and film, putting viewers in the shoes of a detective chasing a mystery — quite literally. We tried it at a press preview day at the Tribeca Film Festival's Storyscapes exhibit, and quickly fell into its quietly engulfing narrative.
Dropped into a sparse, black and white landscape, you're on the lookout for arrows spread throughout the horizon; you can move your head in any direction, and once you see the arrow, you focus your gaze on it, holding it long enough to act as a "click," and then it moves you in its path.
Created by French interactive and game designers Armand Lemarchand and Charles Ayats, the game is based on an equally sparse and mysterious graphic novel by Marc-Antoine Matheau. It is an experience that takes patience, and a willingness to follow instructions blindly. But the 360 degree video makes it interesting enough at first, and once you get into it, the game becomes a strange bit of wish fulfillment.
With clearly defined lines demarcating the horizon, it feels truly like you have entered a graphic novel; in some ways, it's a bit like existing in the A-Ha "Take On Me" video, which is a world in which no one would object to inhabiting. Once you "click" on an arrow, you watch the world, such that it is, your character shuffles to the next destination, and the journey often includes squeezing through narrow passageways, dropping through secret doors, and hanging on to the edge of cliffs. Looking down allows you to see your character in the third person, lending some needed context in certain situations.
Much of what we call virtual reality is actually 360-degree video, an impressive and useful tool that allows you to visit far-flung lands and come face to face with exotic animals (including the endangered white rhino, in another Tribeca entry). But true VR creates an explorable universe, even if it has photographed elements inside of it. There is no real free movement in Sens (at least not in the early levels we played), but the blank horizon feels limitless, which is key.
The version we played was set up on a Samsung Gear VR, and viewed through an Oculus headset. That usually doesn't provide the highest quality picture, but given Sens's lo-fi aesthetic, it doesn't much matter. The game will be available in May on Gear, Oculus and Google Cardboard, but the creators are also trying to get it on the HTC Vive — a costly proposition, for which they are running a Kickstarter right now.
The future of VR is certainly in breathtaking and lifelike visuals. But until developers work the kinks out and make those cinematic images immersive, it's experiences like Sens that'll stand out on the platform.