Everything We Know About Drake's 'Views From the 6'
The soundtrack for your summer is only two weeks away.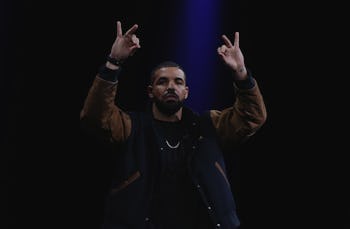 Getty Images/Justin Sullivan
On his Beats 1 OVO Sound Radio station this past Saturday, Drake dropped the news about the upcoming album we're all waiting for. "Views is dropping 29 April," he said. "It's something that I've been working really hard on, myself and 40. There's a lot of music on there. You'll have your full share of Drake music for the summer and for the year. Forever." That's exactly the reassurance we needed from Drake about his sixth official studio album Views From the 6, which will be more indebted to his hometown than any of his previous projects based on the Toronto-referencing title.
He told OVO Sound Radio that he and producer Noah Shebib have been working arduously to make a record that reflects the sound of their city, and it isn't much longer until we get to hear the results. Here's what we know about the album so far.
Lately it seems that there's always some kind of streaming hoop to jump through when a major artist releases a highly anticipated album. Rihanna's ANTI or Kanye's The Life of Pablo, for example, were only made available on TIDAL before they were released on other streaming services, galvanizing huge masses of fans to reluctantly download Jay-Z's service.
Apple Music will own the exclusive rights to Drake's Views From the 6 for a week after it drops, so you may need to download Apple Music if you're set on hearing the album as soon as it's available. Recalling what Kanye's release did for boosted TIDAL subscriptions, it's likely that Views From the 6 will do the same for Apple Music.
Getting to the more important stuff — you know, the music — we know Drake's sixth studio album will feature two songs that the rapper recently shared, the dancehall-inspired "One Dance" that features singer Kyla and Nigerian artists Wizkid and "Pop Style" featuring Kanye West and Jay-Z. As far as emotional appeal goes, "One Dance" sees Drake unveiling his characteristically sensitive side with some gentle vocals (he is also featured on Rihanna's dancehall number 1 "Work") while "Pop Style" is more straightforward rap with a sinister beat and features from two of the biggest names in the game.
If these two tastes of Views signify anything about the upcoming album, it's that it will waver between Drake's sensitivity and his deserved braggadocio. Other possible collaborators include Willow Smith, 2 Chainz, and Kendrick Lamar. Drake has also released "0 to 100/The Catch Up," "Hotline Bling," and "Summer Sixteen" since his 2015 collaboration with Future What a Time To be Alive, but he has yet to confirm if any of these tracks will be on the album.
As is typical of any major album rollout, there have been some leaks that have revealed more about the divergent directions Drake is taking. The leaked "Faithful" featuring dancehall artist Popcaan and late rapper Pimp C hinted at a supposed exploration of Jamaican influence, confirmed a few days later by the proper release of "One Dance." Almost a year ago a song called "Can I" featuring Beyonce leaked, a track that's expected to appear on Views.
It's been plenty of time since the two collaborated on the intimate "Mine" from Beyonce's self-titled 2013 album, which makes this possible team-up long overdue. We may be missing a big chunk from the song in the unfinished Soundcloud link below, but Beyonce's contribution to the track doesn't seem to be very major, a slightly unfortunate development considering the energy she's shown off in her latest and more boisterous tracks "7/11" and "Formation". Drake also teased Views on Vine, with this short snippet of a song that features a radio friendly hook.
Aside from the Toronto rapper's usual crew of producers — 40 (Noah Shebib), Boi-1da, Omen, and Nineteen85 — Drake has hinted at a possible collaboration with his frequent beat supplier Metro Boomin' in a Twitter shoutout.
The 6 God's hometown is supporting the album hype by plastering Drake's signature symbols—the 6 hand, black and white dice, the Toronto skyline—in Toronto's Billy Bishop Airport. A projection of the 6 hand with an eyeball in the center was seen on a building in London last week, which led people to believe it was the official album artwork. But an Island Records rep confirmed that it is "100% not the album artwork." The official album cover has yet to be revealed.
There are only two weeks standing between us and the official Apple Music release of Drake's Views From the 6. Based on what has been unveiled, the rapper appears to be going in a few different directions sonically: the palpable Jamaican influence sees Drake exploiting the trademarked softer side of his personality, while the never-ending beef with Meek Mill that gave rise to the vengeful "Summer Sixteen" or the stacked roster of "Pop Style" signal a more assertive and ruthless approach. Either way, it's safe to say you'll be hearing this album all summer.