'Star Wars: Battlefront' Will Include Lando And More Updates
DICE has altered the deal. Pray they don't alter it any further.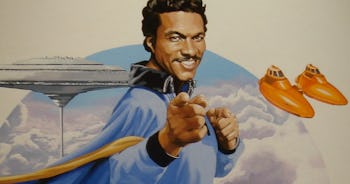 Star Wars: Battlefront is about to add a many an update to the game, including a playable Lando Calrissian and bounty hunter Dengar. The game will include some fresh weapons, along with new cards and a carbonite chamber.
So… how many of you are still playing Star Wars: Battlefront after the release last November? I put in three days and a few hours at a party, then collapsed from the apathy. After a decade of waiting for a proper follow-up game in the series, this new iteration felt limp and lifeless — or worse, random. Also, as a Professional Video Game Player-Man, I have still not successfully piloted a single spacecraft without accidentally piloting it into a mountain of flames and failure. This game is a mix of too many modern gaming shit-systems and too many unbalanced mechanics, spread across some deeply mediocre maps. The real battle here? Taking the game seriously.
But, like its Destiny and Division multiplayer peers, Battlefront is looking to add content to the game until I buckle under the peer pressure of ridiculous add-ons and make a last ditch effort to reclaim the ninety bucks I spent on guaranteeing this extended experience.
For example, here is Greedo going "Beast Mode" and from the video I think we can all agree that Greedo in basically the Marshawn Lynch of the Forest Moon of Endor. Look, that's a goddamned apt comparison and I need you to get on board.
There's a lot of new features and expansions coming to the game for scoff free in the coming weeks, Dengar becomes a playable character when the Bespin pack hits in June. Oh, and as like a small additional detail, you'll be able to play as Lando Calrissian.
AWWWWWWWWW HEELLLLLLLL YEAHHHHHHH.
Can't tell you how many times I've been circling the scaffolding of Cloud City and said to myself "I wish I was like, the worst traitor in all of pop culture? Is that a thing I could have?" And the Lucasfilm Genie heard my wish, so here we are.
If this is enough to bring you back to the game, let us know. I am willing to host at least one (1) entire hour of Inverse-led shooty-shooty fun time in June. This deal will only get better.