Everything We Know About J.J. Abrams's 'God Particle' Film
John Krasinski and David Oyelowo  will take on the cosmos in J.J. Abrams's 'God Particle'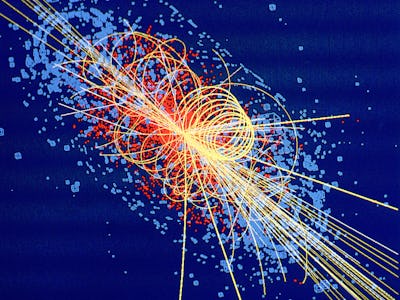 wordpress.com
On Tuesday, J.J. Abrams's next producing project, God Particle crept into the news, with the announcement that former star of The Office John Krasinski may be joining the cast of the space-set thriller, coming off his previous starring role in Michael Bay's 13 Hours (that Benghazi action movie).
The modestly budgeted film has been in development as a joint production between Paramount and Abrams's Bad Robot since 2012, though the film was stalled when InSurge — Paramount's indie production house — went under a few years ago. Now, though, God Particle is gathering its cast for a February 24, 2017 release date.
What is 'God Particle' About?
Judging by the title, you might already have a solid notion that the film will explore some disaster surrounding the Higgs Boson, also known as the "God Particle."
According to ComingSoon.net, the film follows a group of astronauts working aboard an American space station and — apparently — screwing with the laws nature with the help of a particle accelerator. After something inevitably goes awry, the astronauts find that planet Earth has seemingly disappeared; what's more, they're getting signals from a nearby space station that shouldn't exist.
Though Krasinski is still in early talks, the film already boasts a strong cast including David Oyelowo (the actor who blew the doors off Selma) and Gugu Mbatha-Raw, a talent who's been working her way up the Hollywood ladder for the past decade. In addition to her strong turn in last year's Concussion, sci-fi fans and anglophiles might also recognize her from a prolonged stint on BBC's Doctor Who as Martha Jones's sister, Tish.
On the Technical Side of Things
The idea for God Particle sprung from the mind of writer Oren Uziel — perhaps best known for his work on 22 Jump Street — who began writing the story after the news broke that physicists had discovered the Higgs Boson, the subatomic particle that bestows mass on every object in the Universe. That may not sound terrifying at first, but since its discovery, smart people have been warning of the potential for cataclysm lurking in the particle. For example, Stephen Hawking claimed that the Higgs Boson could eventually murder us all when, "a quantum fluctuation creates a vacuum 'bubble' that expands through space and wipes out the universe."
God knows what a quantum fluctuation is, but it doesn't sound like fun.
At the helm of God Particle is relative unknown Julius Onah, a Nigerian-born director who's made a name for himself with a series of stirring short films and one indie feature that's received mixed reviews. Abrams has made a habit of picking relative strangers to direct his sci-fi passion projects; so Onah's attachment is hardly surprising. And since Onah has been attached to the film since the beginning, this speaks to Abrams's confidence in his talent.
Keep Your Eyes On It
While there's still some time until God Particle is released next February, this is certainly one of the more intriguing science fiction projects on the horizon. It's modestly budgeted roots hint at more of a character piece than an action-packed thrill ride (expect more Moon than Interstellar), which could make the film right at home in the recently exploded "real people in real space" genre.