'Confirmation,' HBO's Anita Hill Film Starring Kerry Washington: What You Should Know
The opening reviews are good, and Anita Hill herself is singing its praises. The cast is certainly a crack team.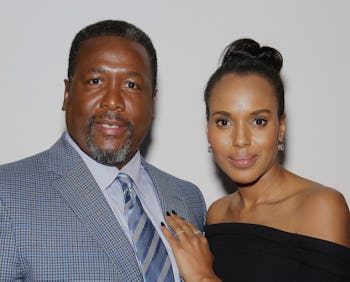 Paul Zimmerman/Getty Images for HBO
In contemporary TV and movies, birds of a feather tends to come in two or threes. If you get a cartel movie like Sicario, you get TV series (Narcos) and a documentary (Cartel Land) to satisfy your urge for South-of-the-border drug-related entertainment. If you want insight into today's crooked, unfettered economy, you get The Big Short and Showtime's Billions. If you want all-star dramatizations of iconic 1990s "event" trials, you get FX's The People v. O.J. Simpson, and now, the HBO original film Confirmation, about the 1991 Anita Hill trial.
The film's release is a confluence of events: it's part of the larger nu-true crime trend and also HBO's trend of producing original movies based on not-too-far-in-the-past political and cultural events which captured the public imagination. Many of these projects have been stellar, including the excellently acted excavation of the Palin vice presidential run, 2012's Game Change and David Mamet's surprisingly great Phil Spector, which is more about the peculiarities of law than the famously insane, crossbow-toting music producer himself (suitably Pacino-fied). There's no reason to expect that the impressively cast film — which explores the Supreme Court confirmation hearing of Justice Clarence Thomas in 1991, and his former employee Hill's testimony to the Senate Judiciary Committee over unwanted sexually charged advances — won't follow suit.
Director Rick Famuyiwa( Dope and Talk to Me) made the wise choice to recruit a trusted HBO vet, (Wendell Pierce, star of both The Wire and Treme) and a buzz-worthy, beloved TV staple: Scandal's Kerry Washington. The roles hardly seem like a stretch for either player; the actors fit like a glove so closely that we almost feels as though we've already seen the film.
Wendell Pierce recently spoke to Black America Web about his approach to the morally ambiguous character of Clarence Thomas. His comments recall the challenges one can imagine the O.J. cast endured: finding a way to make a controversial figure who has been viewed from so many angles — and is tied so wholly to a controlled, inscrutable public persona — into a cogent, realistic human being. Pierce said:
"I had to put aside any preconceived notion that I had. While we know [Thomas] as a public figure, as a person he's pretty much an enigma. As an actor you have to play the humanity of a person. What was a surprise to me was how much we had a common. I chose to focus on his love of family and the love he had for his son."
Essential to avoiding the cartoony — or a melodrama-tized version of an SNL skit — is finding a emotionally grounded entry into the mindset of these characters. The challenge of Thomas seems like an ideal platform for the veteran Pierce —sometimes relegated to an affable sideman — to prove his range.
Meanwhile, Washington's performance seems to have hit the right notes for at least one important audience member — Hill herself — who told Essence in a recent interview that she loved Washington's dignity and emotion. "She appeared a lot more dignified than I felt during that moment, but she still lost nothing in terms of how painful the experience was," Hill said.
Initial reviews have praised, along with the expertise of the acting, the tight screenplay from Susannah Grant, who — suitably —wrote Hollywood's most iconic feminist legal dramas: 2000's Erin Brockovich. Also, we know that the film, like O.J., uses and re-stages lots of actual footage from, and news broadcasts about the trial. Other players (some stunt casts along the lines of American Crime Story here, definitely) include Jennifer Hudson, The Americans' Alison Wright, Erika Christensen, Treat Williams as Ted Kennedy, and Dylan Baker as Senator Orrin Hatch. Oh, and Joe Biden played by… Greg Kinnear, of course.
Confirmation may be 100% what you expect — well-executed realism, by-the-numbers plotting — but as we saw in O.J., we can only hope that the film explores the sexual, political, and racial dynamics and issues surrounding the trial on a deep, constructive level. Certainly, it would seem as if this team of players could more than deliver those things, and turn in something beyond a clever re-enactment.
Confirmation premieres on HBO this Saturday, April 16th.