Single Amazon Kindle Oasis Charge Powers the Weirdly Square e-Reader for Months
Move over, _Hitchhiker's Guide to the Galaxy_, there's a new space companion in town.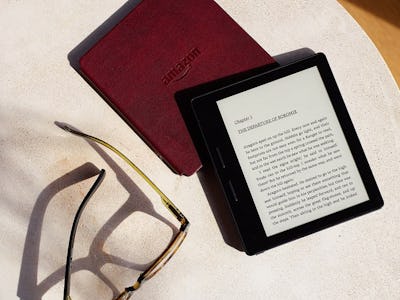 Amazon
Would-be space travelers will want to take note, as the new Kindle Oasis gives the Hitchhikers Guide to the Galaxy a serious run for its money. Amazon unveiled the e-reader on Wednesday, describing it as "unlike any Kindle you've ever held." It also has a battery life unlike anything ever seen before on a Kindle.
The Kindle Oasis, when used regularly and attached to its bundled-in leather battery cover, gets eight weeks of life on a single charge. But standby time for the Oasis, as Amazon told The New York Times, is "months and months." Yep, it looks like the Oasis can go off the grid for chunks of years at a time.
With a breakthrough battery-sipping design, Amazon has made its new Kindle perfect for space voyages. A post on NASA's website estimates the trip would take around 260 days. That's all dependent on rocket speed, positioning of Mars, and a whole host of other factors, but 260 days seems to be a good ballpark figure. Now, "months and months" of battery may leave you with days (or weeks) to go, but there'll be plenty of other stuff to occupy the time, like flying the ship or avoiding asteroid collisions.
Sure, you could take a book and not worry about charging, or battery life, or a whole host of other problems. Books don't light up, though, and they're kind of big. Sitting on a spaceship flying to Mars, you're going to be twiddling your thumbs once you've finished reading Infinite Jest and grown tired of your fellow passengers. The Oasis has 4GB of storage, enough for thousands of books. Why talk to anyone when you can power through the works of Shakespeare in prep for your big meet-up with the Martians?
Closer to home, the Oasis pulls Kindle bookworms away from the electrical outlet and into the great outdoors. Months away from the hustle and bustle of the city was only a dream for Kindle addicts before now. Kindles in space are cool, but in practical terms, Amazon may have just ended e-reader battery anxiety for good.