The Joker in 'Suicide Squad' Now Involves Semen, Thanks to Jared Leto
Leto is proving to be a real-life version of Downey Jr's 'Tropic Thunder' character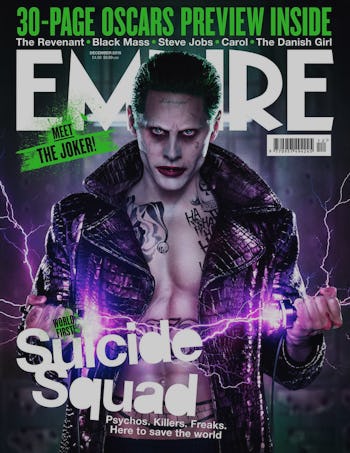 In a continued effort to prove that he is the real-life version of Robert Downey Jr.'s character in Tropic Thunder, Jared Leto has taken method-acting as The Joker a little too far. First, there were reports of Leto serial-killer gifts to his Suicide Squad costars, including a dead pig. Viola Davis told Vanity Fair
He did some bad things, Jared Leto did. He gave some really horrific gifts. He had a henchman who would come into the rehearsal room, and the henchman came in with a dead pig and plopped it on the table, and then he walked out. And that was our introduction into Jared Leto.
Thus far, nobody has confirmed or denied that he killed the pig himself to get into character, so we will wildly speculate that he did. New reports have now surfaced that he also sent anal beads and used condoms to cast members. Nobody has confirmed or denied who used the condoms, so we are once again forced to assume it's Leto.
Jared Leto: the co-worker you definitely want to invite to your next office party. Next, we will presumably hear reports of Leto sending used merkins.