'Men In Black', 'Jump Street' Crossover Has An Official Title
MIB 23 feels so real now, so what does this all mean?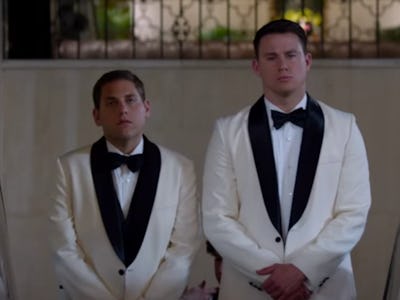 Sony Pictures
It's really happening — we're getting a Men In Black/21 Jump Street crossover movie and it feels even more real now that we've got an official title.
Sony announced the film's title as a part of their CinemaCon 2016 presentation last night.
While details about the film are still scant, Variety reports that Channing Tatum and Jonah Hill will be back, but Will Smith and Tommy Lee Jones won't be a part of the new crossover film.
Also not returning are Jump Street directors Phil Lord and Chris Miller, who, according to Variety have their hands full with Disney's Han Solo project. Instead, James Bobin (The Muppets, Flight of the Conchords) is stepping in.
At first glance, diving back into the world of Men In Black with a Jump Street crossover seems like an odd one, but perhaps there's some promise behind the idea of rebooting a beloved franchise with a healthy dose of the enormously successful Jump Street feel.
MIB 23 isn't the only reboot that Sony announced last night — it also announced plans for a Charlie's Angels reboot and doled out some more information on the reboots of Magnificent Seven and Ghostbusters.