Kari Faux's 'Lost En Los Angeles' Is Wise Beyond Its Year in Hollywood 
She's your favorite rapper and she knows it.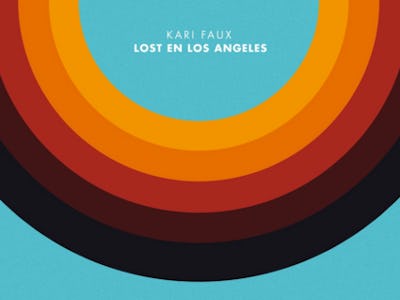 Kari Faux, a 22-year-old artist from Little Rock, Arkansas, is funnier, smarter, and (probably) more talented than you and I, and she likely knows it. It's evident on her first full-length album that she dropped last week, Lost En Los Angeles, on the independent label Wolf + Rothstein. When it comes to young artists like Kari Faux, we tend to focus on their age; we dwell on how impressive it is that they've created something so great with so little experience.
As much as you want to learn the narrative behind Kari Faux's ascent — how did she get from Arkansas to here, for example? — those concerns take a backseat to the music. There, the message is clear — there's no secret to her success. It's stupidly obvious that when you listen to Lost En Los Angeles, you're listening to the work of a master.
When you're listening to Kari Faux, you're listening to a project whose collaborator, bLAck Party (a.k.a Malik Flint), taught himself how to play "most of the instruments" on the album, all within a year. Although the album was born of her year-long stint in Los Angeles, it lives outside of those confines. Its focus is on the struggle of making something evergreen.
"There's no one that truly understands, but that doesn't mean you're misunderstood," Kari begins on the album's intro, speaking over a smooth piano-laden track with a repeated mantra in the background: "focus and breathe, focus and breathe." From the jump, Kari establishes that this album is a therapy session, a guide, and a party. On the next track, the tempo picks up as she raps about her purpose in Los Angeles; she's "across the country, trying to make something" of herself, while you're at home on the couch. Ouch, but true.
Like any good Hollywood story, Lost En Los Angeles makes you want to jump in your car and join the drama. The album goes on to give us a lot to talk about: love and heartbreak, drugged-up adventures, '70s-style production, the idea of Los Angeles as a chill place, and then Los Angeles as one big, lame industry party. But the track "Supplier" sets her up as the source for your inspiration, both with its direct lyrics ("you know I got the shit that takes you high up") and its mesmerizing bass line. On "Nothing 2 Lose" and "Fantasy," she rejects assumptions about her career ("why you out here fighting to be relevant? I'm just out here tryna pay my fucking rent") and her role in stereotypical romances ("I'm no man's fantasy/ I'll probably leave you empty if our bodies do collide.")
I moved to Los Angeles two years ago, but when I listen to Lost En Los Angeles, I'm on another planet, somewhere between home and my future. Kari Faux's music controls time, defying decades, genres, and timelines. Her sound is original, her lyrics are relatable, and when she raps about how meaningless everything is, she creates meaning in spades. To me, Lost En Los Angeles isn't about fame or trying to be permanently relevant. It's about how life is, at most times, just a bunch of confusing bullshit. Kari Faux turned that into art, the kind you can bump while crying, driving, or while "you're at the function." We'll all die one day, sure, but Kari Faux made something timeless, and that's a pretty good way to get lost.
You can buy Lost En Los Angeles on iTunes here.