Facebook's Account Kit Is Another Signal That the Password Is Dying Quickly
Fingerprint scanners, facial recognition, and proximity sensing are all working to end passwords.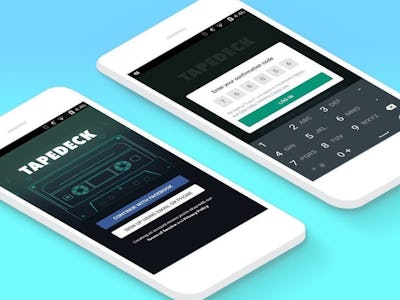 Facebook via Mashable
Let's face it: Nobody likes passwords. They're long, hard to remember, and you have to come up with a new one for every single login. Fortunately, it's not likely to stay that way for too long. Proximity sensors, selfies, fingerprints, and even the way people behave will all play a role in killing the password for good. And relatively soon.
Facebook revealed on Tuesday that it wanted to move one step closer to abolishing the password from our lives. Account Kit, announced at the social network's F8 developers conference, lets users sign in with their phone number instead of the password: type in the phone number, wait for the text to arrive, then input the code for instant access.
"People hate user names and passwords," Facebook's manager of product marketing Deborah Liu said at the F8 unveil.
Facebook has partnered with 20 companies in 11 countries to beta test the idea, and the results have been great. The test resulted in half a million new registrations via phone number, and the partners reported a 33% rise in new registrations. People don't like remembering passwords. Who knew!
Different password replacement methods need a way of tying the login screen to the software that will now take care of the authentication. Checking to see if a word matches is easy, but checking to see if a fingerprint is the same should probably be left to the scanner, where the scan is stored securely. Windows Hello is one such piece of kit.
With every copy of Windows 10, free for most users for the first year of availability, Microsoft has bundled in a cutting edge authentication system that uses either facial or fingerprint recognition to tie online logins to something easier to remember. Hello is supported by Microsoft Edge, tying it into supported websites and simplifying the login process.
Apple is in the password-eschewing game, too, with iPhone and iPad's Touch ID scanner taking a user's fingerprint whenever they want to unlock the device or make a payment. App makers don't need to worry about coming up with a way of storing and scanning fingerprints with Touch ID – it's already done by the system.
But where Microsoft really outshines Apple is its support for facial recognition. Windows Hello supports the Intel RealSense 3D camera, which uses two lenses to capture the image of a person's face. Best of all, the way the 3D scanning works means fraudsters can't use a picture of somebody to fool the system.
Some other up-and-coming password replacements don't even require conscious interaction from the user. Behavioral authentication measures variables like the gait and speed that somebody walks at. If it matches the expected result, the phone grants the user access.
Another replacement touted in the press is proximity sensing. Apps like MacID and Knock use the phone's Bluetooth capabilities to detect when it is near a computer, offering up a different way of unlocking the computer when within range.
But there's an alternative form of proximity sensing that could eradicate the wifi password, forever ending the need to sit there pecking out a baffling string of letters and numbers when visiting a friend's house. A new tool invented by MIT researchers, called Chronos, can pinpoint people in range of a wifi signal and grant internet access to only those in approved areas – like, say, inside of a house or internet cafe.
Account Kit may not be as technologically flashy as the rest of the alternative authentication tech mentioned above. But the weight that Facebook brings to the conversation of password replacement should have anti-password enthusiasts as excited as ever. With these efforts combined, along with more that are sure to come soon, remembering a password may quickly become a thing of the past.