Meet Madeintyo, The Man Behind "Uber Everywhere"
The rapper that Metro Boomin' does trust.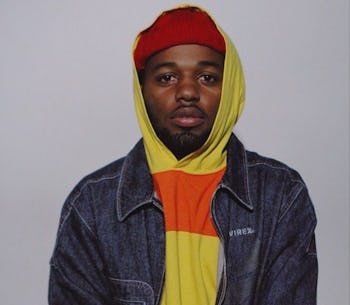 You know those songs you can't get out of your head, even if you want to or even if it annoys the person that's next to you when you're singing? Madeintyo's "Uber Everywhere" is that song.
"Uber Everywhere" is addictive; The simplicity and insistency of the song's lyrics, specifically the hook, make it so: "Shorty wanna kiss me, but I know she sucking dick/ Shorty wanna kiss me, but I know she sucking dick/ Look, Uber everywhere, pre-rolls in the VIP/ Yeah, Uber everywhere, pre-rolls in my VIP," he raps. (I never said it wasn't borderline crude.) A few lines from the verses are hard to not relate to also: "Heard you was a lame boy, get up out of my/ And my ex keep calling, swear that she be in the way." Exactly.
"Uber Everywhere" was made in the kitchen of his parents' house, where Madeintyo still lives. You can't even be mad at it because to him, fame still feels weird. "My mom always says, 'you don't have fans until you can pay your rent,' and I feel that way," he tells Vice. "I don't have my own crib and I'm still in an Uber because I don't have a car. I don't think any fame is going to sink in until it's my living."
Madeintyo spent six years Tokyo while in high school, taking in the culture and adopting his stage name which is short for Made in Tokyo. You can see and hear the influence in majority of the visuals he creates, which includes anime drops and Japanese subtitles. Along the way, he joined art collective, Private Club, founded by his brother Royce Rizzy. The Private Club consists of Madeintyo, Rizzy, Phin Tha Weirdo (from Houston), Salma Slims (from Atlanta), Noah Wood$, and Nephlon Don (from Philly).
Before "Uber Everywhere," Madeintyo released "I Want (Skr SKr)," which is pretty empowering: "I want it so I'm gon' go get it."
Madeintyo's has also gotten the co-sign by A$AP Rocky, Ty Dolla $ign, Travis $cott, Tory Lanez and the ultimate co-sign, Kylie Jenner (who's lips he references in"Uber Everywhere").
Madentyo's appeal lies in his youthful sound, also it's very chill. It's hard not to vibe out to his music, and dab along.
Both "Uber Everywhere" and "I Want (Skr Skr)" are featured on Madeintyo's EP, You Are Forgiven, which was released at the end of 2015. He has a collaborative project with producer Metro Boomin', Madeinboomin, coming "soon." He debuted new music from Madeinboomin at The FADER Fort at SXSW in March.
If nothing else, know this: Metro Boomin' trusts him.