Justin Bieber Still Hasn't Outsold These Five Weird Musical Artists
Yes, the guy who sings "Summer of '69," and even contemporaries like Bruno Mars, still hold records Bieber can't beat.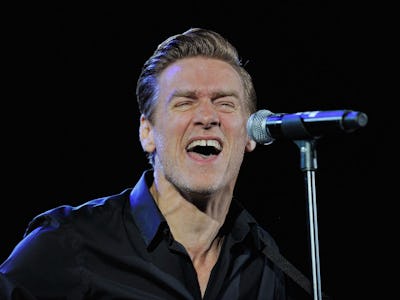 Gareth Cattermole/Getty Images)
At present, the currently be-dreaded Justin Bieber has sold over 75-million records (albums, singles, digital downloads) worldwide in his just-under-a-decade-long career. With his December album Purpose — which hit the 3 million mark in March — Bieber surpassed the cumulative sales of Herb Alpert and the Tijuana Brass, who were neck-in-neck with the Beatles on the charts in the mid-'60s, and have fourteen platinum albums to their name.
But though his recent singles have dominated culture like few other songs of the past year, Bieber is still lurking at the bottom of the pop bestsellers list. And it's not just the Beatles and Taylor Swifts of the world beating him out. Here are a few of the biggest-selling artists of all time (you didn't know were among the biggest-selling artists of all time) and have more formidable stats than the biggest pop star of the moment — who has definitely broken records himself — has yet to best.
Reba McIntire
Total records sold: approx. 85 million
This country is wide, and the country music is ever bigger, often, than people who never leave coastal metropolises would ever believe. So if your chief association with Reba McIntire is her surprisingly popular early '00s sitcom or her turn in Tremors, you're missing one of country music's greatest commercial successes in the music-video age. McIntire has released 93 singles and a full 33 albums since her debut in 1977; 16 of the albums which were #1s on the country chart. She's even charted a #1 country single as recently as 2010. Like many classic country singers, the prolific, well-oiled Nashville studio machine helped her turn out what seems like an unthinkable amount of music. This has been the key to her success, making her the 10th top-selling female artist of all time.
Dire Straits
Total records sold: approx. 100 million
Money for nothing. you say? Across a relatively modest run from the late '70s to the early '90s, London guitar rockers Dire Straits became an immensely popular band worldwide. Perhaps their main wheelhouse was the UK and Australia but their 1985 album Brothers in Arms went to #1 on every major worldwide chart, and today is 9x Platinum in the U.S. There were four hit singles from the record, but the iconic track was "Money for Nothing," whose iconic early-computer-animated video was a staple for MTV in its early days. Also, it says "You play the gee-tar on the M-T-V" in the song," and says "MTV" a lot.
Bruno Mars
Total records sold: approx. 100 million
Hawaiian-born, subtly retro-fied crooner Bruno Mars — who might seem, on paper, to be a slightly commercially inferior artists to Biebs — has actually trumped his cumulative sales. It's somewhat staggering, considering that Mars has only released two (double platinum) albums and 17 singles, to Justin's four albums and 29 singles. Features have padded out the deal, and of course, the worldwide across-the-board success of "Uptown Funk," which went to #1 in multiple countries and is now 9 times platinum.
Bryan Adams
Total records sold: approx. 100 million
Canadian chart stealth weapon is primarily known for his SUV-stereo/dentist-office smooth Americana favorite "Summer of '69," as well as his biggest commercial success, "Heaven." I mention Canada because they are the secret weapon with Adams' formidable worldwide sales: He's had 9 #1 albums there. Many people can't even name the person who sings his songs in this country, but Bryan Adams has still outsold Katy Perry, Coldplay and Biebs, respectively.
Flo Rida
Total records sold: approx. 80 million
Though he started as one, no one knows whether Flo Rida even counts as a rapper anymore. He's been confounding all rational musical minds for the past decade, beginning with his debut single, "Low," hit #1 on the Hot 100 (also known as that "applebottom jeans" song). It's a singles game for Flo Rida — he has 11 Top 10 singles, more than most standard-issue rap artists manage in a career. His club-friendly mix of hip-hop, whatever the pervading dance music trend at the time, and sometimes a familiar '80s pop hook has proved to be lucrative beyond anyone's wildest imagination.
His best song: