James Franco's Sexuality Remains Marketable and Fluid
Whether actor James Franco is straight, gay, or pansexual, the raging media controversy is clearly working in his favor.
by Christine Jun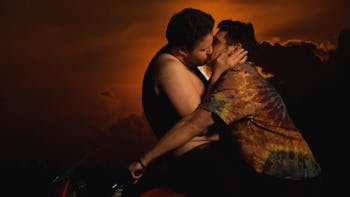 No doubt, actor James Franco is a gifted polymath — as actor, director, producer, visual artist, and writer — but he's also his own best PR machine. We can now add shrewd businessman to that list. Franco's public sexual inclinations seem to shift according to whatever latest project he's promoting. Let's take a look.
In fact, Franco's sexuality has become such a key object of fascination, contention, and often, scandal, that his art and personal life have become somewhat indistinguishable from one another. It hardly seems accidental, as Franco appears to relish his role as cultural provocateur; and god knows, it hasn't hurt his career or box office sales performances. Instead of addressing the media rumors of being gay or a predator of pubescent girls, Franco seems to encourage such attention with loaded social media stunts, as well as with his continuous preference for gender-bending and complex sexual roles.
To be fair, it was the media that originally forced Franco to be a spin-doctor of his own slandered sexuality. He seemed to realize the commercial value (and ironic humor) in becoming an active participant of his own defamation. In 2008, the same year that Franco played both queer weed-dealer Saul in Pineapple Express with Seth Rogen, and Harvey Milk's lover in Milk, Gawker ran a series of posts that repeatedly referred to Franco as a "Gay Rapist," speculating that he had sexually assaulted a man. Although the articles have since been disavowed by the author, Franco didn't bother denying the gossip. Instead, he proactively fanned the flames of controversy by posting pseudo Instagram photos of himself making out with a blurry-faced stud, and even starting a film project called GR — for gay rapist — which was later abandoned.
Ever since, Franco has continuously demonstrated a self-professed on-off obsession with gay narratives and artistic preoccupation with homosexuality. He's done drag, played tortured gay poets Allen Ginsberg (Howl, 2010) and Hart Crane (The Broken Tower, 2011), and co-directed the 2013 gay cruising flick Interior. Leather Bar. Naturally, public speculation over Franco's sexual preferences only continued. After the The Times ran a piece about Franco and his frequent collaborator and roomie Scott Haze, describing their relationship as "now so close that describing them merely as friends would be a disservice," Franco posted an Instagram referring to Haze as his "live-in boyfriend."
2014 also turned out to be extra-weird for Franco, as that same year, the actor allegedly propositioned Lucy Clode, a 17-year-old female fan from Scotland, who attended Franco's Broadway hit Of Mice and Men while on vacation in New York City. However, it's not impossible that Franco's Springbreakers-ish, abrupt about-face was a promotional stunt for his film Palo Alto. The film - based on Franco's 2010 eponymous collection of short stories, which prominently features teenage drinking, drugging, and fucking – stars Franco as an older teacher who initiates a relationship with a high school soccer player (Emma Roberts). Is it a coincidence that the flirtatious and fully documented direct Instagram messages that Franco sent the underage Clode — including an offer to book them a hotel room — took place on April Fool's Day, the same day that Palo Alto's trailer was first released?
Last year, in line with producing his gay rights activist biopic I am Michael, which Franco also starred in, the actor "reverted" to gay-centric themes and published Straight James / Gay James. Unsurprisingly, Franco's 2015 chapbook of raw poems explored questions of sexuality, identity, and gender, including a self-interview where "Straight James asks "Gay James" outright: "Let's get substantial: are you fucking gay or what?"
Since then, Franco has written coy statements such as, "I'm gay in my art and straight in my life," and "I'm also gay in my life up to the point of intercourse." He also continues to Instagram homoerotic shots of himself, with his arm around an oiled-up Keegan Allen in bikini briefs. Would this have anything to do with their co-starring roles as gay porn stars in Cobra King, which premiers at Tribeca Film Festival this year? We think so.
Franco also seems to be branching into female queer narratives, as it was recently revealed that he chose to cast lesbian vampires in his TV movie remake of the cult thriller Mother, May I Sleep With Danger?, which releases in June 2016. Of course, Franco also co-stars in the film.
In an era where it's not uncommon to witness celebrity reputations swiftly taken down by scandalmongering, James Franco is proving an unprecedented master of media manipulation in his own right. He's even claimed that all these endless speculations about his sexuality act as a sort of a defensive "shield" or "smokescreen" for him to hide his true self behind.
Whether James Franco is straight, gay, bisexual, or polyamorous — hey, does it really matter? Whatever his sexual preference may be, the end result is that all the media hype is clearly working to his advantage.