Young Thug To Get a Lot of Money For Having a Song in 'Suicide Squad'
Does Leto's Joker like trap? The Atlanta rapper sister links the 'Slime Season' rapper to the upcoming DC blockbuster.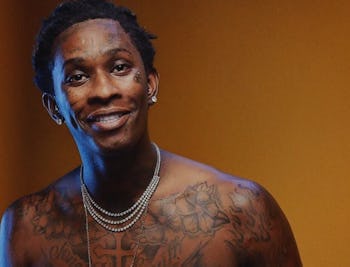 thuggerthugger1/Instagram
Atlanta rapper Young Thug is one of the hottest hip-hop stars of the past three years, and he has as many sisters as he has mixtapes (quite a few; he has 11 siblings). Sometimes, he even puts them on the tapes. True Thug fans know that a lot of intel about the enigmatic rapper's goings on can be ascertained by following his family members' social media accounts.
Normally, family photos and enthusiastic expressions of support are what you can expect from the jovial aunts of Thug's possible future offspring, but something unexpected popped up yesterday. His sister Dora wrote:
Inverse has speculated a great deal about this film, but to date, the only music we've had to associate with it is "Bohemian Rhapsody." The possibility of Young Thug is, in some ways, a surprise, but the combination of edgy and eerie that propels Thugger's brittle, erratic songs might make a good fit.
Plus there is — somewhat unfortunately — a certain affinity, aesthetically, between Thug and the Suicide Squad Joker himself, who could have fit in as a henchman of James Franco's character in Spring Breakers. It's not out of the realm of possibility that our wiry Leto-ghoul of a criminal mastermind would be himself of the ominous, prankish energy of Thug's music, and perhaps Atlanta trap music in general.
No confirmation from Warner Brothers yet, or mention of the song. One worries that, even if it was licensed, perhaps it didn't make the cut. In any case, we'll all see on August 5th, and root for Thug getting a well-deserved extra paycheck.