Indiana Jones Producer Says He's "Not Going to Do the Bond Thing"
No one but Harrison Ford will ever play the role.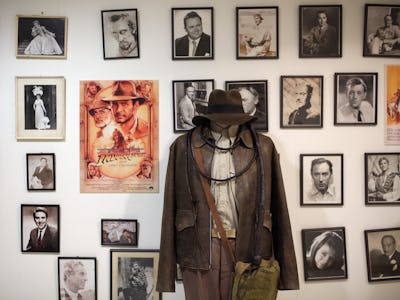 Getty Images/ Dan Kitwood
Harrison Ford is Indiana Jones. Unlike Ford's other iconic role, Han Solo, Indy will never be recast in the upcoming fifth installment of the Indiana Jones franchise, according to producer Frank Marshall.
Marshall held a Q&A with reporters today after Cinema Con, and discussed extending Indy's adventures past the Indiana Jones and the Kingdom of the Crystal Skull, but made sure to point out that while Indy's hat and whip may be passed on in spirit, he wouldn't be rebooting the franchise with another actor.
"It's all about the story. I think both in the Jason Bourne series and on 'Indiana Jones, we are not going to do the Bond thing," Marshall told Variety's Brent Lang, "We think those characters are iconic, and those are the only actors who can play that."
The fifth film will continue Indiana's story where it left off after "Crystal Skull," and is set to come out on July 19, 2019. Ford's been busy on a run of long-awaited franchise sequels, including Blade Runner 2, and, of course, The Force Awakens, although the star said he wasn't particularly disappointed at Han Solo's death in the Star Wars saga. It's enough to make you wonder if Ford is just lining up sequels to make sure all of his iconic characters are killed off before some unworthy actor can step into their shoes. While we do know Shia LaBeouf won't be back for Indy 5, the rest of the movie is still up in the air.