Hyperloop Technologies to Give "Demonstrations" at Las Vegas Event in May
CEO Rob Lloyd says it is "the dawn of a new means of transportation."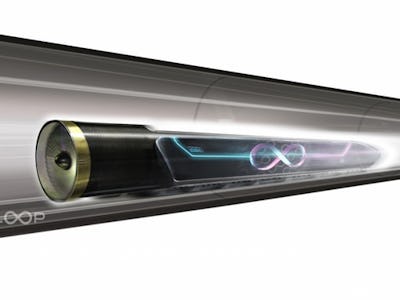 Hyperloop Technologies, Inc.
Elon Musk conceptualized the Hyperloop almost three years ago, envisioning a tube track with pressurized capsules speeding passengers in 30 minutes between San Francisco and Los Angeles. The idea has since grown to inspire student design contests and companies that want to build out Hyperloop across the country. Now, Los Angeles-based Hyperloop Technologies believes it is another step closer in making Hyperloop a reality. The company is hosting a special sneak preview of its latest technologies and a tour of its test site at Apex Industrial Park in the city of North Las Vegas, Nevada on May 10 and 11.
"You can expect demonstrations of full-scale components of the Hyperloop Systems that you can expect from the full-scale system," Rob Lloyd, CEO of Hyperloop Technologies, tells Inverse. "It will be an update on development status of the testing site which will be deployed over the year."
Those who attend the event will get the chance to see demonstrations of the technology, as the invitation sent to Inverse reads:
Attendees will be able to visit the test site and hear the latest developments from the Hyperloop Tech team on how they are making the Hyperloop a reality.
Hyperloop Technologies' plan leans on the more realistic end of the spectrum of proposed Hyperloop designs, developing a system that carries people and cargo both on land and as deep as 262 feet underwater. So far, the company has built a lot of testing equipment, including axial compressor blades, a levitation rig that has a rotor that achieves speeds over 670 mph, and a 50-foot-long and 12-foot-diameter tube to test all kinds of hardware.
Though Hyperloop Technologies's "Kitty Hawk moment" isn't expected to come at its May event, the company believes its first full-scale Hyperloop demo will happen before the close of 2016. The system was announced back in December 2015 and will be two miles of tube with controlled interior environments expanding across the Nevada desert. Inside, there will be levitated hyperpods that accelerate to over 700 mph.
Hyperloop Technologies has received support from north Las Vegas government officials, Lloyd says. "Nevada is perfect for Hyperloop. The land is great, the location is helpful for research and development, it's close to home base, and provides large workforce."
After development of its full-scale Hyperloop is complete, the company will roll out the first three or four production systems sometime in 2017 and 2018, according to Lloyd. In the meantime, the company will continue testing in the Nevada location, having secured a 30-year lease for the land. Engineers are also developing control software and technology for banking corners and track switching.
Ultimately, Hyperloop Technologies — alongside many of the other Hyperloop companies — plans to deliver a fully operational Hyperloop system by 2020.
"This is the greatest time to be an engineer. At Hyperloop Technologies, we have the brightest minds in the world that leverage their experience to make a difference and change the world," Lloyd says. This is "the dawn of a new means of transportation and it is about freight and passengers."