Drake's 'Views From the 6' Will Be An Apple Exclusive, Will Still Go #1
But how much will Drake's newest actually sell?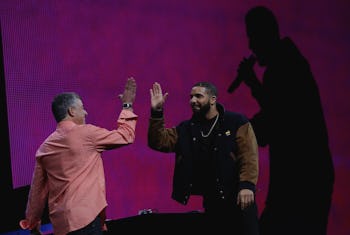 Justin Sullivan/Getty Images
Another win for Apple Music, courtesy of Drake.
On April 9, Drake announced that his forthcoming album, Views From the 6, will be released on April 29, exclusively on Apple Music.
Drake has sustained a strong relationship with Apple since announcing their partnership — rumored to be worth $19 million — in June 2015, when stopping by Apple's WWDC (Worldwide Developers Conference) in San Francisco. Ever since, Apple has had a hand in some of Drake's biggest releases, like contributing funds and exlcusivity to Drake's "Hotline Bling" music video and offering him and his label their own Beats 1 program, OVO Sound Radio.
Drake and Future debuted their collaborative mixtape, What A Time To Be Alive (a.k.a. the album that features the song, "Jumpman," which hypes up Taylor Swift), on Apple Music. OVO Sound's elusive act DVSN released their debut album Sept 5th as an Apple Music exclusive on March 26. Just last week, on April 4, Drake released two new singles, also as Apple Music exclusives, "One Dance" and "Pop Style," which features The Throne (Kanye West and Jay Z). He premiered a newer version of "Pop Style," sans The Throne appearance and with one new verse on his Beats 1 show on Saturday, April 9.
And now, Views From the 6.
According to Forbes, Drake initially claimed the album would "solely be available" through Apple Music before editing his Instagram caption and deleting details of exclusivity. Apple later confirmed Views indeed would be an Apple Music exclusive. Details about the extent of exclusivity are still unknown.
Seeing that it'll be a streaming exclusively on Apple, no matter however long, does it have the potential to earn Drake another No. 1 Billboard 200 album? If we recall that all of Drake's official studio albums have peaked at No.1 on the Billboard 200 chart, and how well TLOP did because of streaming, we can pretty much assume it will. But wouldn't it be amazing if it was mostly, if not solely, because of streaming; it'd surely be another feather in the cap for Apple and their growing service.
Kanye West scored his seventh No. 1 album on the Billboard 200 chart with The Life of Pablo. He earned an equivalence of 94,000 units in the week ending April 7, according to Nielsen Music via Billboard.. Out of the 94,000 total, 66,000 units were counted via streaming. TLOP became the first No. 1 Billboard 200 album where the majority of units generated (70%) were streaming equivalent albums (SEA).
Apple exclusive or not, by now, Drake has the talent and fan base to earn himself a No. 1 album.