'Suicide Squad' Trailer: Batman Cameos in DC's Villainous Team-up
Suicide Squad hits theaters August 5.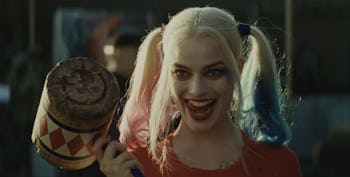 The new trailer for Suicide Squad debuted during Sunday's MTV Movie Awards, and it's big. The trailer dropped another hint about long-rumored addition of Batman to the film, with an extremely short glimpse of the dark knight jumping off into the darkness.
The much-hyped trailer gave fans a sneak peek of the upcoming film, set in the DC universe. "I've known to be quite vexing, I'm just forewarning you," Harley Quinn says, before the trailer launches into an action-packed montage of the gang fighting foes as part of a secret government program.
IMDB had previously hinted that Ben Affleck would be reprising his role as Batman, following the release of Batman v Superman: Dawn Of Justice, and while this latest trailer does not outright confirm Affleck's role, it's yet another hint that the character will feature as more than just a cameo.
We first see him walking to the Batmobile:
We see him next hitching a ride atop a car, possibly being driven by the Joker:
And also, Batman jumping toward a body of water:
The trailer features Sweet's "The Ballroom Blitz" as a musical accompaniment to the group's antics.
Based on the group of anti-heroes that star in the DC Comics, Suicide Squad follows a group of villains recruited by the government to execute secret missions. The film features a wide array of characters, including Will Smith as Deadshot, Jared Leto as the Joker and Margot Robbie as Harley Quinn.
The previous trailer gave us a first real look at the characters that make up the Suicide Squad, set to the tune of Queens "Bohemian Rhapsody."
Suicide Squad is set to be released in theaters on August 5.