Google's Schaft Is Ruining Our Fun by Making Robots That Don't Fall Down
_"Don't you understand, Google, what robot failure means to us?"_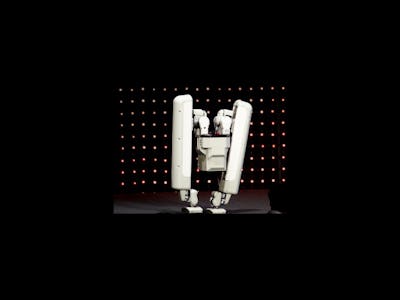 Twitter (@robotopia)
Google is currently attempting to sell robot manufacturer Boston Dynamics, but it's holding on to Schaft, a former winner of the DARPA Robotics Challenge. And at New Economy Summit (NEST) 2016, Schaft showcased a new robot. This robot — unlike many of its less fortunate robot ancestors — can handily ascend and descend staircases, go for long walks on the beach, and climb desolate snow-covered hillsides.
The robot is for now unnamed, but, even despite its relative lack of humanoid characteristics, it's immediately likable. Its ambulatory style seems vaguely modeled after an AT-AT Walker, but rest assured that this Schaft robot won't be shredding battlefields with laser cannons anytime soon. (It's still a bit young for that violence, anyhow.)
NEST 2016 attendees claim that this bipedal prototype robot is "aimed at helping society by carrying heavy loads." Whether that's literal in addition to figurative is as yet unclear: this robot will certainly help you carry emotionally heavy loads for long strolls on isolated beaches or thoughtful meanders through snowfields. And it'll look damn majestic as it does.
There's a pretty amazing history of robots failing at things, and it's consistently endearing to watch a robot fail. Witnessing a non human-but-humanoid robot stumble and crash to the ground is philosophically intriguing: ought one sympathize with something that cannot itself feel? Anyways, one of the things in robots' amazing fail history is climbing staircases. Will you feel? See for yourself:
And there are countless other incredible fails, some of them compiled in the GIF below:
Leave it to Google to preclude our amusement for the foreseeable future: this unnamed robot is sure-footed and altogether too good at what it does.