11 Ways 'Six Feet Under' Remains Influential and Compulsively Watchable
Six Feet Under's unflinching portrayal of death and other taboo topics influenced almost every TV show that came after it.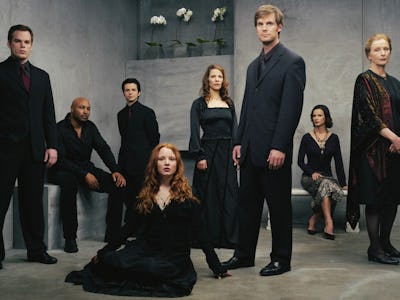 As avid TV show consumers, we are currently inundated with perhaps the far-too-many-choices of "peak TV." But of all the countless hours I have spent in front of the small screen, I have to ask myself: how many of those shows really mattered? How many of them affected my life on a deeper level, made me rethink my worldview, and - withstanding the test of time - stayed with me? In truth, only a handful. And one of those TV shows is Alan Ball's Six Feet Under.
Even if following the evolution of the Fisher family or the show's enlightening one-liners didn't change your life - as they did mine – Six Feet Under transformed the landscape of TV land forever, influencing almost every major TV drama that came after it, like Dexter and Weeds. Today, it's easy to take for granted the authentic, frank portrayals of death and previously taboo subjects, or its willingness to take creative risks.
In tribute to the fifteenth anniversary of Six Feet Under, here are at least 11 ways that this extraordinary and groundbreaking series changed TV forever:
Its creative use of opening credits
Six Feet Under's opening credits introduce a dream-like sequence of abstract, evocative images which fade into each other. Instead of laying out a storyline, it created an associative image matching the tone of the show's drama. Some of Six Feet Under's death-themed opening images include a crow flying across an empty pale sky, a gravestone, hands washing in water, and a gurney bearing a body – with a close up on its toe-tagged feet - wheeled down a long corridor. If you rethink the opening credit sequences in Dexter and True Detective, a similar pattern emerges, and you can appreciate the understated brilliance behind this creative choice.
It addresses the human themes of death, life, and loss in a realistic way
The show's opening of each episode with an original cause of death made loss seem not only tragic and untimely (as in the case of a month-year-old infant), but often random and absurd: like when a housewife goes out into her backyard, only to have a pack of blue ice dropped from a passing airplane land on her head. Also, in a novel move, Nate Fisher (Peter Krause) — arguably the main protagonist of the series — actually dies before the last episode. The compelling, and unsettling, point that Six Feet Under makes is that death can happen to anyone, at any time.
It isn't afraid to show lots of naked dead bodies
Since the Fisher family is in the embalming business, it's not unexpected that Six Feet Under is willing to show a corpse or two on the table. Except, there are almost more dead bodies than live ones; of all ages, ethnicities, and in various stages of decay. During its six-season run, Six Feet Under proved gutsy, and never bothered to adorn or idealize the sight of a human corpse, much less Nate, David, and Rico's attempts to clean up one up after a messy death. Thankfully, no dead person on their embalming table ever resembles a supermodel. Instead, the show often reveals sutured torsos, heads missing the top half of their skull with the brain exposed, etc.
It portrays a gay male narrative in an astonishingly nuanced and emotive way
Not only does rigidly type-A David Fisher (Michael C. Hall) struggle on-screen to "come out" to his conservative mother Ruth (Frances Conroy), but Six Feet Under also manages to avoid every gay stereotype by directly challenging, if not slyly poking fun at them. The show never shies away from depicting David as a complete individual – son, businessman, friend, lover - through all his evolutionary phases of self-experimentation. We follow David as he navigates his way through a series of personal delights and disappointments as a gay man: from clubbing and casual one-night stands, through intense loneliness and yearning for a family of his own. Eventually, he marries his first love, police officer Keith (Matthew St. Patrick) and adopts two sons.
It explores strong female sexuality without slut-shaming or moralizing
While some of the show's main female characters like budding artist Claire Fisher (Lauren Ambrose) and Nathan's love interest, Brenda Chenowith (Rachel Griffiths) are modern-day feminists, others — like the more traditionalist, long-suffering housewife Ruth Fisher — are clearly not. Granted, Claire possesses a self-destructive penchant for "bad boys," and Brenda's high libido is a challenge to match, even for Nate. But that's okay, because Six Feet Under is more interested in the individual truth under the appearance of societal roles, rather than shaming women for being sexually experimental beings. Particularly interesting is Ruth's character arc towards self-actualization, as an older mother and widow. Ruth unhappily has a string of affairs, trying to "fix" her men, before realizing that maybe what she really needs to feel useful is a profession – something just for herself.
Ghosts and fantasy
Six Feet Under uses surreal dream sequences and fantasies to investigate and resolve the conflicted inner world of its main characters. Nate and David are both plagued by a doppelgänger version of their deceased father, who pops up at the most inconvenient moments to mock them into action. But instead of making us feel morbid and gloomy, these recurrent ghosts point to death as a natural occurrence, or a part of life. Nowhere is the symbiotic relationship between life and death better portrayed than in Nate's weed-induced dream, when he stumbles into a parlor room where Life, Death, and his deceased father are playing an endless round of poker.
Normalizing drug use
Nowadays, drug use on TV is no longer a rare deal. Just think of It's Always Sunny in Philadelphia, or recall Richie Finestre's coke habit on Vinyl. So looking back, the Fisher family's recreational intake of marijuana throughout Six Feet Under seems relatively harmless. But not only does it lead to moments of much-needed comic relief — when Ruth accidentally pops an ecstasy pill on a camping trip, thinking it's aspirin — but it also permits a kind of individual freedom, which ultimately leads to growth and revelation. Weeds learned a thing or two from Six Feet Under.
Mental illness
Despite their polished suburban surface, not only are the Fishers a highly dysfunctional family — mostly due to Ruth's undiagnosed BPD — but surprisingly, no one ever easily resorts to therapy. Six Feet Under also explores Brenda's own dysfunctional childhood, as the twin sister of her codependent brother Billy (Jeremy Sisto) and pet project of her own neurotic psychiatrist parents. When he goes off his meds, Billy's violent psychotic episodes and the resulting disruption feel extremely authentic. Thankfully, the show never paints Billy as the bad guy, even when his mental illness puts a taxing strain on Nate and Brenda's fractured relationship. Instead, we come to empathize with Billy's struggle to cope with his inner demons.
A personal reaction to Kurt Cobain's death
Although Six Feet anchor firmly anchors itself in 90s-2000s Los Angeles through a plethora of interwoven pop culture references and political events, it's Nate's personal reaction to Kurt Cobain's death that stands out. At the time, Cobain's suicide signaled the death of an era, just as Cobain himself embodied a kind of youthful rebellion and hope. Via Claire's flashback of finding a tear-stained Nate in his room, listening to Nirvana's All Apologies, we relive the shock of Cobain's untimely death and its emotional impact on a generation Xers. On the upside, this scene also skillfully acknowledges how grief can create a closer bond between mourners; as a result, Claire also tries marijuana for the first time.
The finale
In one of the best show finales I have ever seen, the continuous sequence of Claire's cross-country car trip on an open road– that opens with a shot of a jogging Nathan disappearing from view in her side view mirror - not only signals her leaving the past behind. Besides flashbacks to key Fisher family moments, Claire's roadtrip is also interspliced with flash-forwards to a future in which we witness something never seen before on TV: the deaths of all the show's major characters, including Claire's own. Past, present, and future culminate into a powerful meditation and statement about the meaning of the life journey. While she drives toward her future death – as we all do - Claire's reaction is an appropriate one: she laughs and cries at the same time.
All of 'Six Feet Under' is available to stream on HBO Now.