This A.I. Aims to Predict Winner of Chinese 'American Idol'
Alibaba built "Ai" to predict human singing ability and behavior.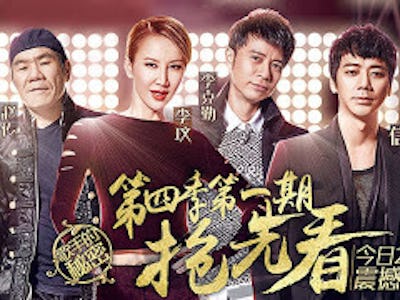 xemphim2015.com
Google's Alpha Go artificial intelligence bot already beat the grandmaster of the ancient board game Go, but another A.I. from the prominent Chinese e-commerce company Alibaba arguably has a more daunting task ahead of it — picking the next Chinese equivalent of American Idol.
Alibaba's cloud computing arm has developed an artificial intelligence, simply dubbed "Ai," which will attempt to predict Friday's winner of the Chinese singing contest show I'm a Singer on Hunan TV, potentially showing off the software's ability to anticipate human behavior.
Seven finalists remain for the contest show and only one will be chosen as the winner on Friday, as decided by the show's judges and 500 live audience members.
Ai will attempt to use metrics to determine the purity of the singer's voices, the popularity of the songs, and the online reactions of the show's many viewers.
"In order to appreciate a singer's performance, there are a lot of human factors to be taken into consideration," Neil Wang, greater China president for research firm Frost & Sullivan, tells South China Morning Post. "You have to figure out whether it is a popular song, the genre, whether it is appealing to the judges, as well as whether the singer sang well. All these have to be taken into consideration during every single performance."
Ai has been taught how to appreciate a person's tone, pitch, and range, but as observers of last-person-standing performance shows in the U.S. well know, there's a lot more that factors into choosing a winner. From Kelly Clarkson to the show's final two contestants, American Idol has always enjoyed an impassioned fandom that adopts contestants for, besides singing skills, things like their good looks or heart-breaking background stories.
The human subjectivity element involved in the picking of an I'm a Singer winner will make foretelling it with A.I. more like predicting the Oscars than the Super Bowl, two areas where artificial intelligence prognostication has been hit-and-miss successful.
Alibaba's neural network has already correctly predicted two of three advancing contestants in I'm a Singer this month, and the final prediction will be made in tandem with the final judges' voting on Friday.