'Star Wars: Rogue One' Teaser Trailer Reveals Felicity Jones as Rebel Badass
The spinoff story details the mission to steal the plans to the Death Star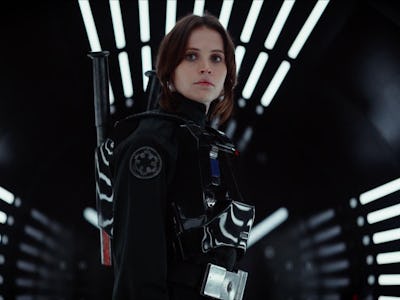 The first teaser trailer for Rogue One: A Star Wars Story arrived on Thursday morning, giving fans a taste of the first spinoff standalone film that will plug a hole in the ever-expanding universe launched by George Lucas in 1977.
Directed by Gareth Edwards (Godzilla), the film is technically a prequel, focusing on a mission to steal the plans to the Death Star, an event that immediately preceded the original Star Wars film, A New Hope.
While the cast of Episode IV returned for J.J. Abrams's smash hit sequel The Force Awakens, the focus here is on a previously unmentioned (and well, not-yet-invented) cast of characters, led by Oscar nominee Felicity Jones (The Theory of Everything), Diego Luna, Ben Mendelsohn, Donnie Yen, Forest Whitaker and Mads Mikkelsen.
Jones leads the trailer as a young troublemaker named Jyn Erso — she's been on her own since she was 15, and is labeled by Rebel leader Mon Mothma as "reckless" — who is brought on board by the Rebel Alliance to help crack the Death Star. Whitaker is a wizened old leader whose warnings echo through the end of the trailer, while it's Yen's job to train the rebels in the ways of the warrior. Luna is an X-Wing pilot, and a pretty cool-looking one at that. Mendelsohn, meanwhile, looks to be playing a high-ranking Empire official.
Here is our shot-by-shot analysis of the Rogue One trailer.
There have been rumors that Darth Vader will play a role — timeline-wise, it'd make sense – and perhaps we'll get a glimpse at a young Princess Leia. It's unlikely we'll get a look at young Han Solo, though — he's getting his own film, and its leading man has yet to be cast.
Rogue One hits theaters on December 16, 2016.