Drake's 'Views From the 6' Has a Release Date and It's Soon
He might drop it before then, knowing this dude.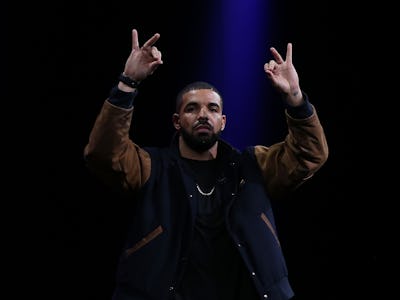 Justin Sullivan/Getty Images
While Beyoncé tortures us with no word about a new album, Drake is feeding us information in small bites.
According to Pitchfork, Drake's forthcoming studio album Views From the 6 is due end of the month. We are getting closer! First it's April, now it's end of the month, and maybe next week we'll get the day of release! Or, if we're being realistic about the trend of music releases dropping from out the blue, he may release the album out of nowhere this month.
Earlier today, April 6, various outlets reported on a logo, or a "reminder that the album is coming", projected on the side of London's Royal Opera House. It's the same logo used on the single artwork for the album's first single "Summer Sixteen."
The artwork is designed by Filip Pagowski of Commes des Garcons. Billboards promoting the album popped up around Toronto in February.
Drake released two singles off Views From the Six earlier this week: "One Dance" and "Pop Style," the latter which features the Throne (Kanye West and Jay Z). While some were wondering where the rest of Jay Z's lyrics were, I looked too deep into the complimentary black and white single artwork and wondered if Drake will be releasing a double album, Nelly's Sweat/Suit-style. I sure hope so because in my mind, I already named it Sweat from the Views.