Everything We Know About Beyoncé's New Album
Is it coming or nah? It sure looks like it, judging from these 15 hints.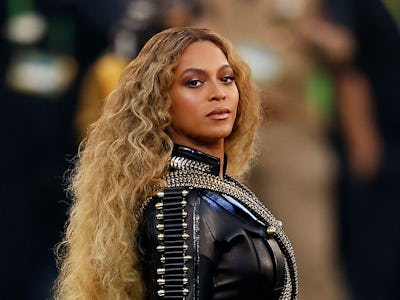 Ezra Shaw/Getty Images
It's the question that keeps us up all night, every night: Is Beyoncé releasing her album today?
It's April 4th — could today be the day that Beyoncé drops her sixth studio album? If you're one who believes in Beyoncé and Jay Z's loyalty to the number four, then yes, it may be. (Beyoncé and Jay Z's birthdays both fall on the fourth, hers in Sept. his in Dec., their wedding anniversary is on April 4, Beyoncé named one of her albums '4,' and Blue Ivy's middle name is reportedly named after the Roman numeral for four). Are you still with us?
Whether or not the album is dropping today, we believe it's coming soon. Here's what we know thus far about Beyoncé's upcoming album:
1.
It's about that time when rumored tracklists surface and circulate. I can't say it helps the anxiety. This happened right around the time that her self-titled album was released in Dec. 2013, and folks wanted more. Recently, coincidentally around April Fool's Day, a rumored tracklist of her upcoming sixth studio album "leaked"—It seems too good to be true, though.
2.
A photo of her, Jay Z, and families of late Trayvon Martin, Tamir Rice, and Michael Brown, surfaced in March. The beyhive claims it's for an upcoming video.
3.
According to US Weekly, a source claims Democratic presidential candidate Hillary Clinton paid Bey' a surprise visit on the set of her new music video.
4.
Fans, including EOnline, noticed that the number of videos listed (117) on Bey's VEVO channel doesn't match the number of videos listed in the index (130)—that may signify that 13 videos are private, waiting to be released into the world.
5.
A project, by the name of Project Lemonade, has wrapped. It reportedly features actor Kahlil Joseph.
6.
Beyoncé and Mariah Carey are working on something together, according to Anthony Burrell. Is it for MC's album, or Bey's?
7.
If the Beyhive says its coming, it's coming.
8.
Producer Detail posted a screenshot of his schedule, which includes one important task: "Beyoncé songs." He also wrote on Instagram that new music "iz coming."
9.
If there's a single, there must be a whole album, or nah? On February 6, Bey' being Bey', dropped a surprise release new song, "Formation," and an accompanying music video exclusively on TIDAL.
10.
Why not follow-up the announcement of apparel line, IVY PARK, with an even bigger announcement or surprise drop? That's the word on the e-streets.
11.
Some of the new music previewed on the IVY PARK trailers are produced by Melo-X, who's collaborated with Bey' in the recent past.
12.
She's also been seen in the studio with Mike WiLL Made-It ("Formation"), D.R.A.M., Future, and Cara Delevingne.
13.
While visiting Andy Cohen's 'Watch What Happens Live,' Bey's stylist Ty Hunter says he's heard the new album, and "it's beyond awesome."
14.
Rumors quickly spread that Bey' purchased a par of $20,000 stilettos for a new music video.
15.
In December, Sia, who co-wrote"Pretty Hurts," told Rolling Stone that Bey' is "working on something."