These 13 Hours of Justin Timberlake and Pharrell 'Justified' Sessions Are Magic
Revisit Justin Timberlake's 'Justified' studio sessions via these unedited gems.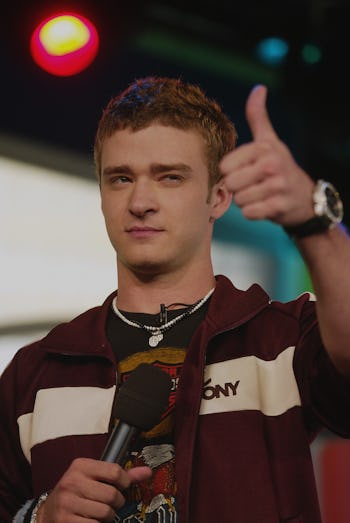 Scott Gries/Getty Images
"When I hear this song, I feel a sense of old-school R&B but at the same time such a new flare. It's halfway Marvin, halfway Michael, mixed with something that I would do."
In this digital era, we wouldn't let an artist get away with such a claim, at least not without sparking a firestorm of memes. But if I told you Justin Timberlake said this on his MTV Diary special, and he said this about Justified in 2001, would you be all that mad? (He wasn't too far off either, seeing that Pharrell Williams recorded a bit of Justified for Michael Jackson's Invincible.)
Justin Timberlake let cameras sit in the studio sessions for his solo debut album, and some footage was used for another MTV special, Launch. The majority of the footage is available on YouTube. There are gems throughout the 13-plus hours of footage captured. Pharrell gives props to Timbaland for "Truth Hurts" and slightly shades him at the same time (above, 56:00). Pharrell says a girl — from what looks to be a girl group at the time — is "fine" (30:15). I really hope it was Destiny's Child. Justin admits he "hates" Dave Meyers's videos (the above video, 35:10). Lastly, Chad Hugo harmonizes the intro to "Strawberry Bubblegum", which was released over a decade later (17:00, above).
It's not just the small moments that make this footage magical. Artists rarely offer a glimpse into the recording process of an album, the entire album, nowadays, let alone an uncensored one. You see Pharrell and JT play off one another, switching up lyrics and melodies together, getting hyped as they do, or singing separately but beside each other (below, 45:11).
In celebration of the report that Justin and Pharrell are back in the studio together, and the upcoming anniversary of Justified, do yourself a favor, lose sleep like I did, and watch the magic that is Justified happen.