Facebook Just Revolutionized Citizen Journalism With Expansion of "Live" Broadcasting
Facebook Live is now available around the world -- and with it, a new way of sharing events globally.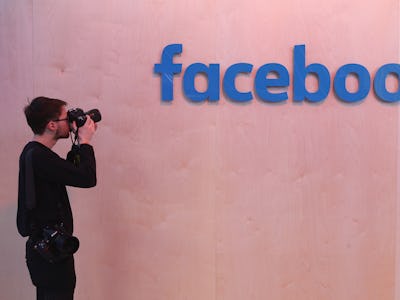 Getty Images
Facebook just democratized live broadcasting with an expansive range of new tools and features. Previously restricted to the U.S., the "Facebook Live" service is now available globally, with the potential to revolutionize news gathering and bring local groups new ways to stay in touch.
Facebook's foray into live video brings broadcasting to the masses. Sure, apps like Periscope and Meerkat have made beaming to the world easier than ever, but they both depended on potential broadcasters (and watchers) to download a separate app. Facebook's app is already on a heck of a lot of phones.
With over 1.5 billion active users, Facebook ranks as the largest social network by a staggering amount. The company has brought a wide range of free broadcasting tools to over 60 countries worldwide, with a new live map for desktop users providing a visual representation of where live feeds are currently taking place.
"Live is like having a TV camera in your pocket," Facebook founder and CEO Mark Zuckerberg wrote in a post today. "Anyone with a phone now has the power to broadcast to anyone in the world."
Facebook has, somewhat like Twitter, been hailed as an info source that bypasses traditional media, bringing journalism to the masses for free. And so live video has suddenly expanded its citizen journalist's toolkit even further.
But "Live" isn't just an advancement that could benefit amateur news-gathering efforts. Concert attendees could also broadcast a gig to people who couldn't make it, or a band member could share a live feed of the preparation backstage. One of the new broadcasting tools almost seems designed for this: users can now "go live" in Facebook event pages to show people who click "attending" what's going on.
When these broadcasts are taking place, people can respond using one of the new reaction buttons; reactions from friends are accompanied by a visual burst of stars, drawing attention to the comments that matter most.
After the feed is finished, though, the broadcast isn't gone forever. Facebook stores live feeds so viewers can replay them at any time. Facebook has added in a new feature where the feed will play back users' comments that were written at the time, as it happened during the broadcast. The company says that users write over 10 times more comments on live feeds than on standard videos. With these new tools and tricks, recording a video for uploading later may soon feel oddly antiquated.