The Hype Around dvsn, Drake's Latest Protégé, Isn't Justified 
The mysterious OVO Sound act's latest effort doesn't live up to tastemaker's unanimous praise.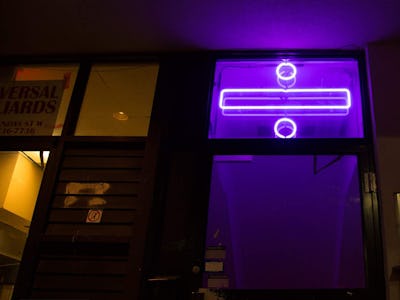 The hype surrounding the mysterious R&B act dvsn is real. Too real.
The headlines and critics are saying all of the same stuff. "Incredible." Lord. It's breathless review after breathless review, but once you get through the critical noise, all remains is an underwhelming product of the hype cycle.
The elusive duo, currently signed to Drake's label OVO Sound, possess an alluring appeal, complete with a mysterious origin story. dvsn — pronounced division — performed at The FADER Fort at SXSW in March, an act comprised of a female DJ, singer, and a backing gospel choir.
On top of the mystique, dvsn's attraction is heightened with Drake's co-sign — its new record Sept. 5 is out on Drake's Warner Bros. imprint, OVO sound — and their infatuation with 90s R&B music. (Nostalgia will always have a hold on us and the OVO camp.) dvsn plays on the infatuation well, recently releasing a string of remixes which cover old-school and '90s R&B, like Aaliyah's "One In a Million" and Marvin Gaye's "Let's Get It On." Singles "Too Deep" and "With Me" seem to pull slight inspiration from the era of DeVante Swing's Swing Mob, which consisted of Timbaland, Missy Elliott, Ginuwine, Playa, and more. It makes sense, seeing as the producers connected to dvsn's latest effort Sept 5th in some way are Noah "40" Shebib and Nineteen85.
But is the act as unreal as the hypebeasts claim? The singer's voice is delicate and lingers, but doesn't resonate. Sept 5th, named after the date when their first singles debuted, is laced with sensual songwriting, but not many stories to connect to or pull detail from. Sept 5th starts and closes strong, especially with "The Line," but the spark weakens at its core. The production's mood doesn't vary or peak, leaving the impression it's one 46-minute song, not 10 individual ones. The hype feels inflated by deprivation and endorsement, not talent or innovation. Also, amidst the conversation of Sept 5th, was the release of Gallant's Ology that's intense and marvelous, with the singer's fierce falsetto as its anchor.
Compared to similar artists, as well as standard-bearers for the genre, dvsn's sound doesn't carry much weight. I'm listening to Justin Timberlake's Justified also, in celebration of its 15-year anniversary, and I can't help but noting the differences between both R&B projects. Justified is an album with electrifying, innovative production by The Neptunes, Timbaland, Scott Storch, Brian McKnight, and The Underdogs, and bustles with life in the way Sept. 5th never does. Maybe it's my love for vocal powerhouses or captivating storytelling that keeps me distant from what dvsn is doing. (Come out, come out wherever you are Frank Ocean.) Or maybe it's just that I hold the highest praise close to my chest, when it comes to an evolving, impassioned, darling genre as R&B.