Jhené Aiko and Big Sean's New 'Twenty88' Is The Tribute to Broken Relationships We Deserve
When it's bad, it's good.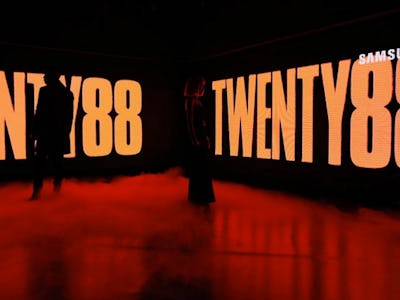 The best part about their relationship was the art they made once it fell apart.
At least, this is the apparent premise of Jhené Aiko and Big Sean's new collaboration, a self-titled album under the duo's new name, Twenty88. They rolled it out just days before its official release, teasing it with pictures and videos on Instagram: Jhené in an orange wig and dripping in metals, Big Sean covered in shades and furs, the two fighting, fucking, posing, and passive aggressively ignoring each other in a limo, in spite of their love. The album's tracks cover the same topics, almost exactly in that order.
They thirst-trapped us. Before we had the album, we were given a clear visual message: Sean and Jhene have left the building, and in their place, we get Twenty88. Twenty88 is a crystallization of the problem couple — the couple who make everything difficult to figure out. Are they dating? Are they just sleeping together? Should we even bother to keep up? The questions roll in as fast as the album rolled out. Their art imitates the real-life struggle of being unable to abstain from a relationship too good to quit, but doomed at every turn. Yet it's not real-life that matters in Twenty88; the real artists might've had a thing, sure, but it's the fictional counterparts they've created that let us play the roles in a tragedy that's never boring.
At first glance, the album is full of sex, missives and transit; there are car rides to apartments in the middle of the night, criticisms of each other's pasts, and indictments on the present. In the opener, "Deja Vu," each takes a shot or two. Sean with "Back on the scene and you already faded / No shame in that girl, you need the escaping," and Jhené with the winning burn: "Cause I stuck around for ya / When your ass wasn't doing shit/ But running around the D/ Wrapping nothing but the mother fucking swisher sweets." Later, on the biting half-skit, half-song "Talk Show," Sean raps his petty revenge: "Since we inviting everyone in the bedroom/ Let's take the covers off/ And talking about how you fucking what's his name who's so fucking lame/ I wish I would've known before I took the rubber off."
The songs themselves are great. But their mastery of emotional warfare in their lyrics—the specificity of their subliminals and direct hits, the imagery of it all—is what makes the chemistry more interesting than the general intimacy of other duos, like Drake and Rihanna's broad-stroked love, "Work." Their lows are the kind you can't deny; you're eavesdropping on their fight in the street, or at the bar, or watching it play out in Instagram comments. The highs, then, are addicting. "On The Way" is a duet, and two standalone love songs; each artist is on a different page, turning it over to arrive in a late-night Uber at the same destination. It's a standout track, and the best example of their synergy. They don't complement each other, but instead, fuse to become an entity of their own — something neither one can achieve with anyone else.
After the build up, the sex and the come-down are unparalleled. They paint the sex as life-changing, of course. On "2 Minute Warning," K-Ci & JoJo back up the pair as Big Sean pens an ode to their sex and love life's interdependence, most simply expressed with: "so good girl I couldn't one night stand, you know I had to date ya." On the closing track, "London Bridge," Jhené issues her own declaration: "If you left, it'd be a historical disaster." On Twenty88, romance isn't dead in the modern world, but it certainly looks different. It's treacherous, years-long, and an ever-expanding universe that swallows anyone in the way. It sounds worse than it looks.