'Cosmopolitan's Amy Odell Is a Fashion Outsider Turned Insider
If you're wondering which fashion bloggers to follow on Twitter, wonder no longer.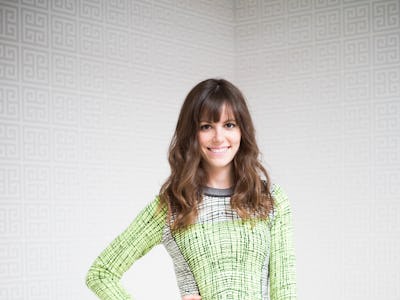 Hearst
As editor of Cosmopolitan.com, Amy Odell damn well better have a handle on the media popular with today's women. "I love Housewives on Bravo," she tells me from her Manhattan office. "I will watch any Housewives, but I am especially fond of Beverly Hills. Miami might be a close second." But, far from a one-trick pony, Odell has written a book about being a newbie in the fashion world, Tales from the Back Row, and monitors a wide scope of pop culture. So what else does she watch, listen to, and read?
For her commute into work, Odell is particular fond of podcasts. She checks off Death, Sex & Money, Serial, Sword and Scale, This American Life, and — partially in an effort to please the publicist also on the line, but mostly because you can tell she actually enjoys it — Cosmo Happy Hour. When she's on the subway, she will also try to answer emails if she can get "a spot of reception" or read The New York Times political coverage via its app. As we talk particulars, Odell raves about Rebecca Traister's article on single women for New York Magazine.
Odell is a self-professed Beyoncé obsessive and, to that end, has been reading J. Randy Taraborrelli's book, Becoming Beyoncé.
"I've been listening to a lot of old Destiny's Child stuff," she says. "[Taraborrelli] goes into detail in this book about how she joined this group Girl's Tyme and then that was a million different things — it was that and then something called the Dolls then it was Destiny then it was Destiny's Child — so he goes through all these iterations of this girl group that Beyonce started when she was eight or so." Odell has also recently dipped into Chelsea Handler's latest bestseller, Uganda Be Kidding Me, and has eyes on Notorious RBG by Irin Carmon and Shana Knizhnik.
When I ask Odell to hit me with some fashion world power players, the Twitter and Instagram floodgates open: Elizabeth Holmes, Cathy Horyn, Vanessa Friedman, Leandra Medine, BryanBoy, Nicole Warne, and Rumi Neely are just some of her faves. Also on the fashion tip, Odell tells me she watches every inch of the red carpet during awards season: "Not only because I have to, but because I would watch it anyway." When I ask her if Project Runway is still relevant, she affirms that it is and talks about the "really fun" Junior version.
As far as other recent television goes, Odell is into The People v. O.J. Simpson, Master of None, Homeland, and Narcos. She will watch Planet Earth and "anything like it" and adds, "I was into The Bachelor when Juan Pablo was on but not anymore. The people are boring." She dials up plenty of documentaries and was particularly taken with Meru a "completely dangerous" story of climbers which "completely blew my mind." As far as movies from last year, she liked Joy and The Martian but wanted to see way more than she did.
"To be honest, I feel like I always have a long list of media that I want to consume." We hear ya, Amy.