'Arrow' Just Promoted Echo Kellum, So Here's a Quick Mister Terrific Primer
The CW superhero show promoted one of its recurring characters to leading man. He'll likely become superhero Mister Terrific.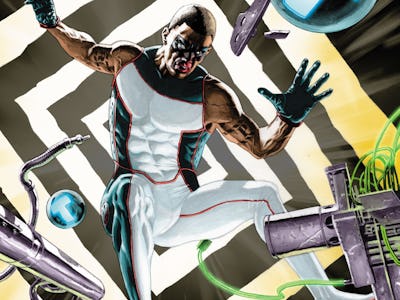 DC Comics
"Curtis, you're terrific," Oliver told Echo Kellum's character Curtis Holt in the Arrow Season 4 episode "Code of Silence." How prescient of Mr. Queen, for Curtis will more than likely become the cyberhero Mister Terrific next season on the CW's Arrow. Actor Echo Kellum has been promoted to series regular, according to TVLine and confirmed by Kellum on his own Twitter page.
Introduced last fall, Curtis Holt (Kellum) is a genius athlete employed by Felicity Smoak as… Well, it's kind of undefined, but he's in her employ and the kid is a genius. Team Arrow could use more brains than brawn, especially now that Felicity has quit (for now). Curtis will be more than a suitable replacement for Felicity until the end of the season, but does Kellum's promotion to series regular mean it's more permanent than it seems?
But don't be surprised if Curtis becomes his own superhero, because in the comics, he is: Mister Terrific! The second to bear the name — a gentleman named Terry Sloane was the first — the moniker sounds more carny than super, but Mister Terrific is a high-tech vigilante in the DC Universe.
Holt is a genius (check) Olympiad (check check) armed with cutting-edge tech that allows him to basically become a living computer. Differing from similar superheroes such as Cyborg, Mister Terrific has a powerful mask with nanotechnology and can control "T-Spheres" that function like armed drones but are capable of so much more. For eagle-eyed fans of Arrow, Holt's T-Spheres and a forerunner to his mask are already introduced in the series.
Mister Terrific is also a relatively new character, so don't sweat it if you've never heard of him before. He was first introduced in 1997 in the DC series Spectre and didn't get his own series until 2011 during the New 52 reboot.
But he has been adapted into other media before, like in the animated series Justice League Unlimited voiced by Michael Beach. He was also mentioned by name in a Smallville episode. But now Arrow has him, and will hopefully let him fight alongside Ollie in all his glory.
Arrow airs Wednesdays on the CW.