4 Superheroes Christina Wren Should Play in the DC Universe
The 'Man of Steel' and 'Batman v Superman' actress is armed and ready for the big time.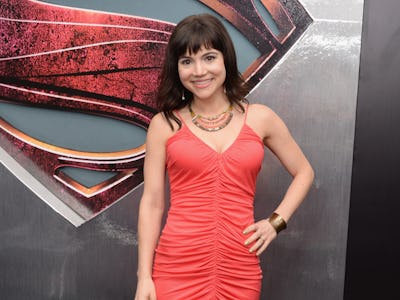 Getty/Andrew H. Walker
You know who Christina Wren is, even if you don't recognize her name. After she slung hummus in an Athenos commercial, DC Universe gatekeeper Zack Snyder put her in a bit role, and she wound up as one of the real highlights in the otherwise-dour Man of Steel, as a soldier who blushes when Henry Cavill's Superman flies away. "Nothing," she says to her superior officer who wonders why she's smiling. "I just think he's kind of hot."
In a new interview with GQ to mark her return-cameo in Batman v Superman: Dawn of Justice, Wren says she's so often rejected to play action heroines, her dream roles. "I have been told by so many people: You'll never be a superhero, you'll never be a Wonder Woman, you'll never be a tough character," she told the magazine. "Even for the longest time, they said I would never be an adult character."
She added, "Those are the parts I've always wanted to play."
Well, whoever makes these decisions clearly don't know his comics. Based on Wren's brief role in Man of Steel and her sci-fi webseries Lusa produced by her indie production company Two Kids with a Camera, here are a handful of awesome DC superheroines Wren is more than capable of playing.
Huntress
Helena Wayne, the daughter of Batman and Catwoman, is a vigilante superhero who resides in Earth-2 and fights Gotham City's criminal element with her trademark crossbow. She's been brought to life several times on screen, from Ashley Scott in Birds of Prey to Jessica De Gouw (as Helena Bertinelli) in CW's Arrow. But she has yet to make her way to the silver screen, and Wren would fit her mask perfectly.
Artemis (of Young Justice)
Though Wren is an adult (even if casting directors think otherwise), Artemis/Tigress of Young Justice would be a great fit if a Teen Titans movie ever skewed older. The new protegé of Green Arrow in the cult series Young Justice, Artemis is armed with a bow and arrow but later changes her superhero ego to Tigress.
Green Lantern (Jessica Cruz)
Four years after she and her friends were killed by mobsters, Jessica Cruz of Earth-3 is chosen by the Ring of Valthoom and takes over Harold Jordan's role as the Crime Syndicate's Power Ring.
This June during DC Rebirth, Jessica Cruz will (along with Simon Baz) become an official Green Lantern, in what DC writer Sam Humphries describes as "Lethal Weapon with alien technology". Though a Green Lantern movie is far, far away from being a reality, it'd be fantastic to Hal Jordan as GL on the big screen, and Wren would be an ideal Jessica Cruz.
Gypsy
Cynthia Reynolds, a meta-human who can camouflage with her surroundings, flees home and buys a one-way ticket to Detroit and uses her superpowers to become a neighborhood protector and urban legend. She eventually joins the Justice League of America, and she hasn't looked back since. Until the New 52 reboot which made her an actual alien gypsy, but I like the runaway story better personally. And Wren wouldn't be bad at all as Reynolds.