"Mars Generation" a Focus of Final Year of Obama White House
Sure has a better ring to it than "Millennials."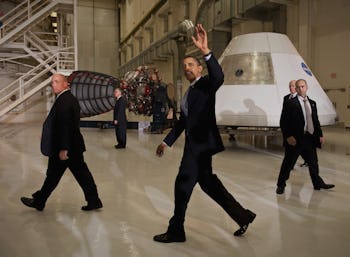 Bill Ingalls/NASA via Getty Images
In a new post on its official blog, the White House announced plans to host the sixth White House Science Fair — the last time President Obama and his staff will have the opportunity to sponsor such an event. Wonderful news on its own, but this year's announcement had an interesting space-related nugget buried down in the text:
"Students attending this year's Science Fair are tackling some of our Nation's greatest challenges, from combating climate change to uncovering new ways to fight cancer to discovering ways to reach farther beyond our atmosphere as part of the Mars generation. We look forward to celebrating their ingenuity and entrepreneurship…"
Yes, the White House under Obama wants to use its final year in office to help rear the country's "Mars Generation."
I'm sure that's a label the latest generations would prefer over Millennials or Post-Millennials. But beyond that, there is some real truth to calling today's younger cohorts the Mars Generation. NASA administrator Charles Bolden said in February, "We are closer today than ever before in human history to sending American astronauts to the red planet." No doubt the younger members of our society — those of the Mars Generation — have the best shot to actually venture off to the red planet and set foot on a world very much like nothing humans have ever seen.
And it's very clear Obama shares this sentiment. We can look at some of his past statements, like when he told students at last October's White House Astronomy Night, "Some of you might be on your way to Mars." And think of what this president has pushed for NASA in the last seven years: increased investment and development into the deep-space vessel Orion and the new Space Launch System; more funding allocated to Mars missions, like the Mars 2020 rover; having the space agency express a self-imposed 2040 deadline for sending astronauts to Mars; and so forth.
Whoever the next POTUS may be, many children and young adults will look to see how far he or she carries this legacy of investment in more efforts to help nurture the Mars Generation. After all, Obama will need some company when he returns to the red planet to kick back.