Azealia Banks' 'Slay-Z' Quiets Her Haters
Despite her antagonistic and controversial presence in the media, Banks' consistent releases and raw talent continue to hold a space for her.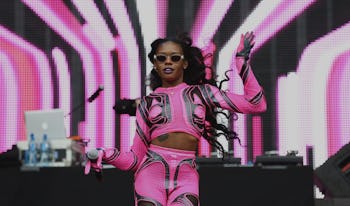 Getty Images/Tim P. Whitby
The media mess Azealia Banks has been tangled in for years is entirely her own fault. Known more for her offensive Twitter presence than her catalog of music, Banks has strongly positioned herself against virtually everyone in the industry through her combative opinions and hateful words. She's even wastes her time bashing her Twitter trolls, a low most celebrities don't stoop to. There is no denying that Banks is usually out of line in her ruthless Twitter bashing, but denying her raw talent and the refreshing creativity of her releases is much harder.
It becomes progressively conflicting to stick by the 24-year-old rapper's music when she refuses to stop launching Twitter tirades against figures and artists who never asked for her heavy-handed opinions. A very abridged list of people Banks has come for on Twitter include Nicki Minaj, Miley Cyrus, Lil Kim, Eminem, Kendrick Lamar, T.I., Lady Gaga, Pharrell, Perez Hilton, Angel Haze, and Lily Allen. She's even been known to lob gay slurs at paparazzi and more recently, her endorsement of Donald Trump inspired the collective face-palm heard around the country.
Once again, though, a stellar release from Banks keeps the haters at bay. Her Slay-Z mixtape that came out last week is a diverse and high-energy collection of tracks impervious to the words of her opposition. Her music by no means excuses the way she acts in the media, but it does carve out a space that Banks confidently occupies. We're searching for a reason to officially shun Banks, but her undeniable catalog of music tells us we need to keep looking.
Banks has previously proved her surprisingly impressive vocal chops, but the new mixtape takes her voice to a new level—it is paramount here, almost as important as her rapping. The Kaytranada-produced "Along The Coast" finds Banks cycling back to her lowest, vibrating register backed by an aquatic, tranquil beat. On "Used to Being Alone," Banks explodes into nearly operatic vocals over siren-laden EDM production, stirring up plenty of drama in its short two and a half minute run. There were limited tastes of Banks' vocal abilities on her debut album Broke With Expensive Taste, but Slay-Z finds Banks returning to her theater girl roots with some tracks that exclusively center on her trained vocals.
Aside from the charming focus on Banks' singing voice, Slay-Z is a lunge straight for the throat, her most aggressive and club-ready release yet. The Rick Ross-featuring "Big Talk" is evenly split between verses by Ross and Banks, both filled to the brim with braggadocio. Ross repeats the line "All I know is that big talk," throughout the track, a way for Banks to warn that she won't shut up any time soon since she has one of the biggest names in the game by her side. She continues to fuel the fire on "Can't Do it Like Me" when she flips male domination of the rap world on its head. "I let him spend his paper but I never lick his lolly," she teases. She continues to push that reversal forward when she raps, "Let me rub them hundreds all over your body," a string of words that would usually come out of the mouth of a male rapper.
Slay-Z relies heavily on production that is considerably more EDM-indebted than her previous releases. "Queen of Clubs" is definitely the most club-oriented track on the mixtape, with a beat that steadily builds in the way that makes you itch for the drop. "Skylar Diggins" follows a similar blueprint as "Queen of Clubs" with a staggering build up to a bass-heavy drop and more flaunted feminism with the repeated line that references the WNBA player: "Skylar Diggins with the wrist, that bitch ballin'." The album's opener "Riot" featuring Nina Sky marks another effort grounded in the EDM sphere. The track's catchy hook that galvanizes the listener to join Banks' ongoing riot sounds as if it belongs in a Top 40 hit. "You'll be dealing with the consequence, you'll be leaving in an ambulance," she warns. Even if we see the Twitter feuds as major losses for the rapper, she sees herself as always coming out on top.
The Biggie-sampling "The Big Big Beat" is probably the most familiar Banks approach on Slay-Z with a contained deep-house thump that expands into a shuffling rhythm and deft raps that rolls off her tongue. Her vocals are again front and center in the chorus, where they nearly cross into yodeling territory, rounding out the mixtape with another impressive display of her ability to interweave rapping and singing. The raw talent that initially attracted us to Banks—before she began embarking on her Twitter tirades—is still here, but her employment of dubstep producers Benga and Coki and as well as producers with more subtle approaches like Kaytranada and AnExpresso move her work forward at a promising pace.
Azealia Banks is unnecessarily hostile and nasty, but she holds a space for herself as long as she continues to put out innovative bangers. It's difficult to acquiesce to the fact that the artist behind these tracks is always out for blood, but it also marks an important practice in separating an artist's art from their personality. Slay-Z is Banks' way of letting us know that she won't stop being herself, despite the heaps of criticism she has garnered. On "Riot" she raps, "We got a riot on our hands. Shit's no fun without the glam. I like unrest, understand?" Loud and clear.