'The Iron Giant' Getting Blu-ray Release in September
Director Brad Bird's debut film gets the deluxe treatment in glorious HD.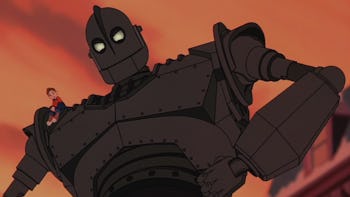 YouTube
Years before he brought a family of superheroes and a plucky rat to the screen for Disney in The Incredibles and Ratatouille, and way before he decided to dangle Tom Cruise from the world's tallest building in Mission: Impossible - Ghost Protocol, director Brad Bird made his feature debut with the animated film The Iron Giant. Now, nearly two decades after it began its transition from box office bomb to cult favorite , 2016 seems like the year it'll be cemented as a true classic. The Iron Giant is officially getting a fancy home video Blu-ray release on September 6, 2016.
Made for a reported $70 million production budget by Warner Bros., Bird's movie about an alien robot who crash lands on earth during the Cold War and befriends a nine-year-old boy named Hogarth Hughes grossed only $23 million and was deemed a failure. But the movie has steadily built a devoted following, and caught on with niche cinephile-favorite brands such as Mondo. Sensing the feverish love for the film, those companies have created lines of fan swag that includes the film's soundtrack on limited edition vinyl and a highly detailed toy of the titular robot.
Following The Iron Giant, Bird's filmmaking career exploded, and fans wondered when they'd be able to watch his first movie in glorious HD. Even Bird himself petitioned for a deluxe edition.
But now fans can rest easy. They'll have options, as the movie will be available in two versions on Blu-ray.
The "Signature Edition" will be available for $14.99, and features the film's theatrical cut and the remastered and extended version that was released in select theaters last year. Special features include a director's commentary from Bird and a new making-of documentary called The Giant's Dream, which, according to a press release will use "stylized animatics, archival footage, original concept art, and revealing interviews" to tell "the incredible ups and downs, industry firsts, and amazing history behind this iconic film, and its rebel director, Brad Bird."
Other features include:
Additional scenes, including alternate opening
Mini documentary segments
Teddy Newton The X Factor
The other version, called the "Ultimate Collector's Edition," retails for $74.99 and seems like it's for super fans only. That set features everything from the "Signature Edition," as well as a hardcover art book, Mondo art cards, and even a small scale statuette of the titular giant to boot. Feast your eyes on the set below:
Iron Giant fans rejoice, you can finally throw away your crappy barebones DVD on September 6.