A Battle-Magic Threesome Capped an Overly Emotional Episode of 'The Magicians'
With two episodes left this season, nothing is going according to plan for the Brakebills gang.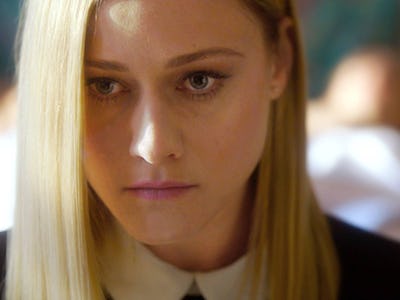 Facebook / TheMagiciansSyfy
Since its debut, The Magicians has tried to set itself apart from other YA series with forays into adults-only material — be it through horror-tinged violence or by making Brakebills the horny Hogwarts we predicted it would be. But, last night's emotionally charged episode, "Remedial Battle Magic," used both of the NSFW tricks as a narrative crux, to both good and bad ends.
It was a sometimes-frustrating, in-between story: the main gang arms themselves with magic to prepare for their inevitable showdown with the Beast, whom the protagonists, via a probability spell, will eventually attack in the future. The episode lacks a real payoff, which was a letdown. The potential to have its problems resolved in a shocking way, in the last two episodes of the season, made "Remedial Battle Magic" an appropriate transition episode.
The show has been teasing the main baddie's return for sometime now, but nothing has matched the premiere's brutal, climactic scene. That violent encounter with the Beast has loomed ever since, especially as more information has surfaced. Quentin (Jason Ralph) and the rest of the Physical Kids still think his real identity is Fillory and Further author Christopher Plover, though we saw hints last week that the Beast could be be the damaged main Fillory kid, Martin Chatwin.
Regardless of who he is, the Beast is obviously a bad dude, but through all of the show's spellbound drama and shape-shifting animal sex, it's a little difficult to remember what his endgame against the Brakebills kids was, exactly. Basically, the Beast wants to control all the magical routes in and out of Fillory so he can have absolute power. He wants his own inter-dimensional gateway portal to keep to his moth-ridden self.
But, the key to the Beast's plan doesn't involve most of the Brakebills students in the least. Instead, we've discovered that the Beast is targeting travelers like Penny (Arjun Gupta) who can transport themselves to anywhere in the universe, including Fillory. The Beast's threats have forced fellow travelers, like Penny's mentor, to start killing themselves, because it's a far easier fate than what the Beast has in store for them. Dean Fogg (Rick Worthy) and Professor Sunderland (Anne Dudek) have warned Penny about the risks of traveling for awhile now, but "Remedial Battle Magic" finally puts those warnings to good use.
For the first time all season, last night's show illustrated what a burden it must be to be Penny. We realized his outwardly dickish personality is just a front for being self-conscious about his traveler gift/curse. The fallout from the Beast's threats forced Penny into his own powerless suicidal thoughts, which then propelled him into a coke-binge-and-stress-induced heart attack, landing him in the infirmary again.
When the gang regrouped with a still-weakened Penny, a faction made of Quentin, Margo, and Eliot doubled down in a neat little magic-as-metaphor conceit. They, literally, bottled up their feelings in a potion so they could focus all of their energy into learning battle magic, as first-year students are generally incapable of performing such complicated spells.
Alice and Penny decided to learn battle magic without using the magical cheat, and the ever-moody Quentin resented this. Their restraint worked, and soon they learned to shoot little energy balls or set up magic shields around themselves. But the others quickly learned the consequence of keeping their emotions bottled up for too long. Last night, Quentin appeared to believe that Alice and Penny are the more powerful magicians.
"Remedial Battle Magic" gave us what will probably end up being the most controversial scene of the entire first season. The battle magic became a source of tension between the couple, thrusting Quentin, Margo, and Eliot into an emotion-potion threesome, which Alice discovered the morning after. At first, that sudden, WTF moment didn't't seem like a reasonable outcome of their relationship struggles. But, it did manage to resemble the sort of whoops-I-had-too-much-to-drink regrettable decisions that happen in college sometimes. We're not saying magical threesomes are common, but who hasn't woken up in a hungover daze in sophomore year asking what happened last night?
With only two episodes left in the season, the pieces of the Magicians puzzle are still very much unresolved. The battle with the Beast is coming and Quentin and Alice seem to be over. What spell can save them now?