With Mars World, the Red Planet Will Come to Las Vegas -- as a Theme Park
Here's why its creator wants Mars World to capture the best parts of Burning Man.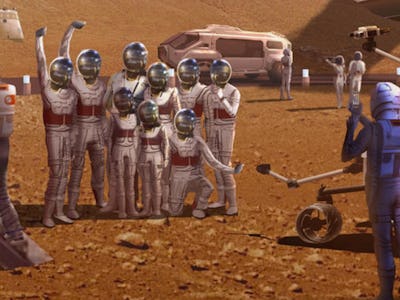 Mars World Enterprises Inc/John Spencer/Brian Cho
Imagine a place where you could exist in only one-fourth of Earth's gravity, ride trams around craters, and dress like a red planet high priestess. Now give yourself the option to afterwards slurp giant daiquiris out of souvenir cups strolling down the Las Vegas strip. That is the inevitable goal of Mars World, a theme park set to open in 2021. The designers of Mars World want to give Earthlings the option of experiencing the music, costumes, and culture of Mars without ever having to leave their own planet.
The immersive theme park will be built on yet-to-be-purchased land somewhere between the I-15 freeway and Las Vegas Boulevard. It's estimated that Mars World will cost about $2 billion; the land alone comes with a price tag of $200 million. The entertainment company behind the project, Mars World Enterprises Inc., is currently considering two tracts of land, one that is 85 acres and another that is 66 acres.
It needs to be big — Mars World is being hyped as the home to the world's largest dome; a structure expected to be as big as the Giza Pyramid and so large the Rose Bowl could fit inside of it. The idea is that the park represents what a hypothetical city on Mars will be like, a city that chief designer John Spencer sees being a lot like Burning Man in spirit.
"They're pretty, rowdy, independent, artistic," Spencer told to Space.com. "Don't agree with authority too much. At Burning Man, clothing is optional. If you take that as a foundation and extend that out further in the controlled environment, then we have amazing characters, artwork, and costumes."
Spencer is uniquely positioned to design this hypothetical life on Mars: He's done interior design work on the International Space Station, designed the underwater laboratory used by NASA astronauts during Extreme Environment Mission Operations, and has designed science bases used by the National Science Foundation in Antarctica.
He is also the founder of the Space Tourism Society and the president of Red Planet Ventures, a company that is focused on "Mars simulation ventures."
Mars World isn't the first attempt at selling the idea of Mars on Earth — in 2005 the company 4Frontiers announced its intention to build Interspace, a "space-themed entertainment and research facility" based in Titusville, Florida. More education and youth-based than Mars World, the $80 million project seems to be pretty much stalled.
What Mars World is most reminiscent of are the space entertainment initiatives at Disneyland and Disney World. After humans made it to the moon in 1969, Disney had to scrap its fantastical imaginings of moon-life and change its Flight to the Moon attraction to Mission to Mars. Mission to Mars opened in both parks 1975, closed in 1992, and reopened in 1998 as a pizza place. The incredible price of updating the project couldn't match the incredible speed in which science was advancing.
That's the inevitable problem with Mars World — the concept is fantastical now, but one day will seem as outdated as the flying saucers built for the 1964 World's Fair. NASA hopes to have humans on Mars by 2040; it obviously won't be a swift transition to making Mars party-central, but it's fair to assume that to our great-grandchildren Mars World will be a relic of the past. This is partly a problem for the future and the billions spent on this — and partly why it will be so exciting to experience it now.