Where Is Lahore, Pakistan? Suicide Bombing Rocks This Peaceful Province
Bombing leaves at least 52 mostly women and children dead in this capital city.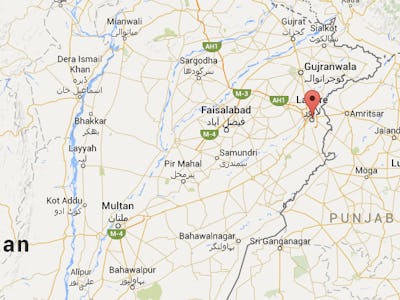 Google Maps
Easter Sunday, a suicide bomber left at least 52 dead at a public park crowded with families in Lahore, Pakistan. Most were women and children spending a Sunday evening relaxing at Gulshan-e-Iqbal Parka. The explosion went off in the parking area, just steps from children playing on swings.
This capital city of the Punjab province is typically peaceful, though a Pakistani provincial minister's home was bombed last year, killing eight. Punjab is the largest and wealthiest province in Pakistan, a nation home to 190 million that borders Afghanistan to the south and has been in conflict with the Taliban for about two years. Lahore is located close to the border of India and is home to 10 million people. Ninety-four percent are Muslims.
Though not the capital city, Lahore is Pakistan's cultural, economic, educational, political, and historical center. Tourists might visit to see the city's stunning architecture, Mughal monuments, remnants of the British Raj, Sufi mystics, and watch cricket matches. The city is known for its gardens and hosts a Lahore Fashion Week and a Lahore Literary Festival, which drew 75,000 in 2015, its third year in existence. A focus on education make it the city that produces most of the country's doctors, scientists, and technological innovators.
If you want to see if anyone you know or love was affected by the bomb in Lahore today, you can access Facebook's Safety Check.