The Future of Buenos Aires: Battling Sprawl the Parisian Way (Minus the Renaults)
The city's high urban density is a strength, and increased growth threatens to destroy it.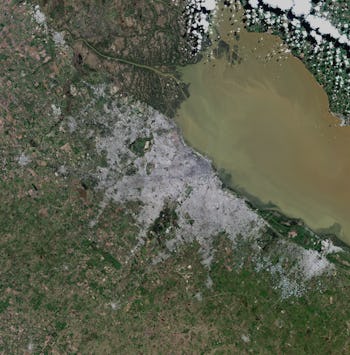 NASA
Argentina is a country with ambitions. Nowhere is this more evident than in Buenos Aires, the the second-largest metropolitan area in South America. Over 13 million people in the metropolitan area call this coastal city home — and that number is expected to swell by another one million before 2030. Uniquely for the region, the city is in relatively good shape right now. And, in order to keep it that way, Argentina is planning on investing a lot of money in infrastructure and civic enhancements.
Andrés Borthagaray, a Buenos Aires-based architect, says his city's strongest asset is the compact structure. Despite such a booming population, the city proper (home to almost 3 million) is just 78 square miles (compared to the 468.9 square miles that comprises New York City). "Buenos Aires exploded in demographic terms before mass motorization, offering some spatial unity combined with social openness in spite of severe contrasts between different part of its metropolitan area," says Borthagaray.
As a result, the city boasts a wide railway network, stretching about about 500 miles long. The bus rapid transit system is relatively efficient. It's a pretty walkable city, and it also has a recent bike program in the center.
But increased growth threatens that advantageous density. Borthagaray says sprawling developments are cropping up on the edges of town — and that gated communities, fragmented neighborhoods, and bigger roads could create unnecessary and troublesome barriers. The fringes, he explains, are the city's biggest problem. The further out one ventures, fewer public transportation options are available (and those options are unreliable).
In short, the biggest challenge Buenos Aires will face for the next few decades is keeping the city close and tight, yet also allowing for continued growth. That said, there's no consensus on what the best solutions are. Borthagaray thinks the city should hedge bets on bolstering public transportation networks — which he calls the backbone of a complex [urban] system.
"Some recent interventions in central areas are inspired in a clear set of priorities towards massive transit and active mobility," he says.
The most important part of that plan would be to improve the train system. That means adding more rails, stations, and trains that stretch farther out of the city and connect to the central centers faster. Borthagaray would like to see a Paris-style train network that links the the city in all four cardinal directions. Reducing congestion and maintaining road infrastructure are essential.
One of the most promising projects of late has is the expansion of the Metrobus — a bus rapid transit system local to Buenos aires. It's essentially overtaking the traditional bus lines, widely used in decades past.
Borthagaray also thinks the city must embrace better policy measures in other areas of infrastructure, like water, sewage, land use, and the environment. Concrete plans of actions against problems like safety and climate change wouldn't just improve the lives of the citizens, but also encourage a more open and engaging political process. "A real community engagement is a key element of those policies," he says, "but the nature of community in its different scales has yet to be understood and developed."
President Obama's visit to the city this past week signifies a much-anticipated thaw between Argentina and the United States, soon after the country brought in Mauricio Macri as its new president and ousted Cristina Fernandez (who often clashed with the Obama administration). There's the hope that this may bring Argentina closer to the West. For Buenos Aires, this perhaps means taking more lessons from cities like Paris and New York City to maintain a high urban density and withstand the effects of uncontrolled sprawl. If not, the country will have to accept a strange new identity it may not be totally ready for.