The Mystery Drake Protégé dvsn Adds to The Project's Allure
Is dvsn for real, or just a stunt?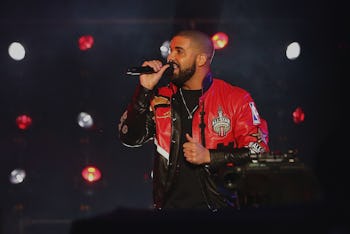 Getty Images/Elsa
At the end of 2015, Nineteen85—Drake's right hand man, known for major hits like "Hold On We're Going Home" and "Hotline Bling"—dropped two songs by a mysterious R&B project dvsn (pronounced "division"), fronted by an anonymous vocalist. "The Line" and "With Me" — sensual, slow burners that heavily recall 90's R&B like D'Angelo and Boyz II Men — immediately garnered much-deserved critical acclaim and speculation about dvsn's possible association with Drake's OVO label. Dvsn finished out 2015 with the release of "Too Deep," a groovy, choir-backed sex jam, and continued to hit their stride in early 2016 with another body roll-inducing track "Hallucinations." Earlier this month, dvsn announced a debut album "Sept. 5th," which confirmed OVO Sound's involvement in the enigmatic project. With a total of four released singles — which deserve repeated listens for different reasons — and a debut album slated for release next week, the future of dvsn's anonymity is at stake. The question is whether a potential reveal will either make or break the project.
The tracks that dvsn has released thus far recall a particular male-fronted 90s R&B sound that has seen a major resurgence in popularity with artists like Jeremih and Bryson Tiller. There's something about oozing male sensitivity backed by full-bodied R&B and falsettos that helps listeners really feel something. Dvsn's tracks explore a certain kind of vulnerability that isn't often found in mainstream R&B today — these songs are bedroom jams rooted in deep intimate emotion, treading the fine line between pain and pleasure. For that reason, dvsn's place on a label fronted by Drake makes perfect sense. At the same time, staying a shadow under the umbrella of one of the most sensational rappers and his major label is a curious approach.
In a pop culture moment so obsessed with celebrity personas, staying hidden behind music can be a true ode to the art of music making — that mystique is very present in dvsn. Rather than adopting an image of superstardom, the artists who have remained anonymous behind their released music emphasize the power of the music itself and the emotional weight it carries instead of the personality behind it. When music is as profound as dvsn's songs (without hyping up the persona of the artist behind it) that's when you know the music is worth your time. Consider how much of the music we love that is pushed forward by the superstar behind it, and then consider how truly magnetic music must be to drive home a message or palpable emotion without putting a face behind it.
The unknown identity of dvsn's singer is by no means the first time that a musician has tried this approach. Take Abel Tesfaye, for example, who released his first tracks in 2010 under the moniker The Weeknd without disclosing his personal identity. Was Tesfaye able to maintain even a semblance of mystery as his career took off? His major mainstream success in 2015 speaks for itself. Then there's Sia, who eschews pop superstardom at all costs by obscuring her face with wigs and accessories when she performs or makes public appearances. She's even kept up the mystique following the release of her seventh album This is Acting and during her appearance on James Corden's Carpool Karaoke one of the most viral video series on the Internet today. The Weeknd eventually fell into full-fledged fame —perhaps not even voluntarily — while Sia has maintained her preferred privacy, but both artists' careers embody the struggle of staying hidden in a pop culture world that becomes increasingly intrusive as time passes.
The motives behind the anonymity of dvsn's singer are still unclear. It could be a ploy to draw attention to the project and create some hype around the album rollout, or it could be more in Sia's vein of attempting to protect privacy. While the mainstream influences of OVO, Drake and Nineteen85 hint at a future reveal of the singer's identity, maintained anonymity for dvsn could also be a groundbreaking move toward privacy that emphasizes an artist's art. (It should be noted that, Drake has crafted a similar approach with his similarly invisible artist SAFE.) As the release of "Sept. 5th" on April 1st nears, we may not get the big reveal we've been waiting for — but this time, it's for the best.