First Look at the Wonder Woman Movie: She's "Hot As Hell and Fights Badass"
A first look at Wonder Woman as Princess Diana with her band of warriors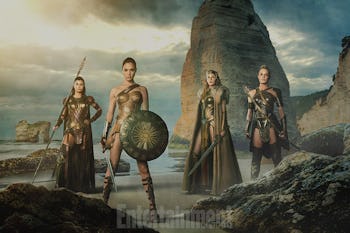 Entertainment Weekly 
Although Batman v Superman has not quite lived up to its hype, the general consensus on Wonder Woman is strong. And it's only getting stronger, thanks to some new photos of a Princess Diana (Gal Gadot) in her pre-Wonder Woman days alongside her band of warriors on the island of Themyscira.
Director Patty Jenkings told Entertainment Weekly about their outfits, "It's total wish-fulfillment. I, as a woman, want Wonder Woman to be hot as hell, fight badass, and look great at the same time—the same way men want Superman to have huge pecs and an impractically big body."
Her fellow warriors include her perfectly cast mother — Gladiator's Connie Nielsen, Princess Buttercup herself Robin Wright, and Force Majeure's Lisa Loven Kongsli. It's a promising start to DC's new cycle.
The film comes out June 23, 2017.