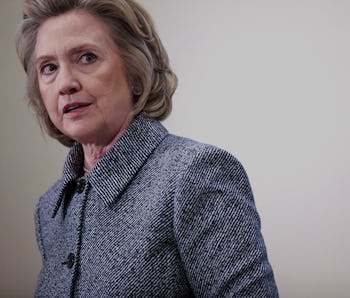 Innovation
Google Planned to Aid Syrian Rebels, Leaked Clinton Emails Show
Google's policy think tank Jigsaw partnered with Al Jazeera to make a map meant to aid rebel forces against the Syrian government. 
Yana Paskova/Getty Images
Leaked emails from former Secretary of State and current presidential hopeful Hillary Clinton allegedly reveal via Wikileaks that in 2012 she and other members of her staff collaborated with Google and Al Jazeera to broadcast a map of Syrian defections from the government's leadership in order to bolster opposition forces.
The map tracked and plotted the locations of defectors from the government in hopes that it would spur a sort of bandwagon effect, where the more people can see others joining up with the opposition, the more confidence citizens will have in the rebel movement.
Clinton adviser Jake Sullivan forwarded an email to Clinton saying "FYI — this is a pretty cool idea," before continuing on to the original email written by former Clinton advisor Jared Cohen. He was no longer with the Clinton team at the time, but in his role as President of Jigsaw — the tech company's New-York based policy think tank formerly known as Google Ideas — he kept up correspondence.
Clinton didn't comment on the plan via email other than to request PDFs of the maps.
The email reads:
Deputy Secretary Burns, Jake, Alec,
Please keep close hold, but my team is planning to launch a tool on Sunday that will publicly track and map the defections in Syria and which parts of the government they are coming from. Our logic behind this is that while many people are tracking the atrocities, nobody is visually representing and mapping the defections, which we believe are important in encouraging more to defect and giving confidence to the opposition. Given how hard it is to get information into Syria right now, we are partnering with Al-Jazeera who will take primary ownership over the tool we have built, track the data, verify it, and broadcast it back into Syria. I've attached a few visuals that show what the tool will look like. Please keep this very close hold and let me know if there is anything eke you think we need to account for or think about before we launch. We believe this can have an important impact.
Thanks, Jared
A Google Ideas post said the company partnered with Al Jazeera, MayNinth, Movements.org, and Potato to compile the visual data from social media posts and video announcements of military officials, parliament members, and diplomats defecting from the Syrian government.
Whether the map was successful in corralling other Syrians to defect from the government is unclear, but given that Sullivan is currently Clinton's top foreign policy advisor, it gives voters an insight into how these two political minds think and tackle international issues.