Chrontella, Marijuana-Infused Nutella, Sets a Delicious New Standard for Edibles
The chocolate hazelnut spread represents the pinnacle of munchie-inducing munchie foods.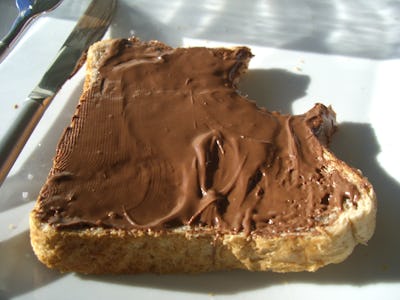 Waking and baking just got a lot more delicious. Chrontella, the creamy, dank brainchild of the edibles experts at Cannavis, is replacing your morning bong hit with a mouthful of heavenly cannabis-infused chocolate hazelnut spread, delivered by way of your breakfast toast.
Each jar of the Nutella-inspired ambrosia contains 300 milligrams of cannabis extract. For context, the state of Colorado limits a standard serving size of THC to 10 mg and limits individual edible packages to 10 servings — so keep that in mind (or not) when you're shoveling dank spoonfuls straight from the jar into your mouth. Chrontella, like the classic pot brownie, represents the classic edible trap — munchie-inducing munchie food — and could get you higher than you intended. At $23 a jar, Chrontella isn't cheap — but does that matter? It's weed-infused Nutella.
It's the not the first time Cannavis — its catchphrase is "Lean back and relax" — has injected breakfast favorites with cannabis extract. The company also makes Pif, a pot-infused play on Jif peanut butter, and Smokers, a kush strawberry jam. There are also fruit-flavored syrups, which can be stirred into drinks, baked into pastries, or used to infuse vapes.
But Chrontella is the company's crown jewel. Only the most inspired of stoners would have the audacity to even attempt to improve upon Nutella, arguably the most perfect of jar-bound foods, and it's perhaps no surprise that the geniuses at Cannavis hail from Canada, where edibles are sold legally at selected medical marijuana dispensaries.
Chrontella isn't available stateside yet, but there's still time to plan a trip to the Great Green North — 4/20 is still three weeks away.
We reached out to Ferrero USA, Inc., the U.S. headquarters for the company that makes Nutella, to see if they knew about Chrontella and if they planned to pursue any sort of legal action, given the uncanny resemblance, and we'll follow up when they get back with us.
The official Instagram account for Chrontella, which was live this morning, has been made private as of this afternoon.